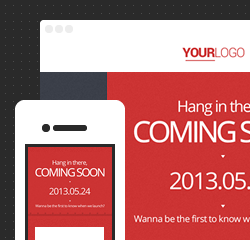 Lander's new landing page templates are not only optimized for conversion, they are attractive and pleasing to the eye!
San Antonio, Texas (PRWEB) October 02, 2013
In today's hyper-competitive online marketing arena, there's a lot of focus on website traffic. Traffic is important of course, but what's even more important is conversion. If website traffic doesn't result in conversion, it's useless.
Making Sense, a software and application development company located in San Antonio, TX, offers businesses an exciting new suite of landing page templates specifically designed and engineered with increased conversion rates in mind.
Lander landing page templates had already gained a reputation for being loaded with valuable features and being easy to set up, even for "non-tech" users with no programming experience. But Making Sense is not a company content to "rest on its laurels" and be satisfied with the status quo.
The company engaged all departments, including the support department which had gained valuable feedback from current customers, and set out to make their landing page templates even easier to set up, even more loaded with valuable features, and most importantly, even more conversion-friendly.
The result was a phenomenal success! In addition to leveraging the power of the latest in conversion optimization best practices, and in addition to their advanced A/B split testing capabilities and simple, intuitive editor, each new Lander landing page template comes with the following wonderful features:

Custom layout functionality
Even greater ease of use than previous templates
Countdown timer integration
A customizable confirmation page template
Business owners and marketing professionals who are tired of taking hours and hours of their valuable time to try and configure and manage landing pages using old, outdated software programs are invited to try one of Lander's new, easy to set up and manage landing page templates.
They'll enjoy the ease and convenience of the Lander user experience. They will love how Lander landing page templates from Making Sense will allow them to be on the web in just minutes engaging new readers and capturing new leads.
About Making Sense
Making Sense is an IT company specializing in the development and implementation of software and web applications for different companies since 2002. It has over 120 employees who work in different offices located in United States, Argentina and Mexico.
The company specializes in offering the latest software development strategies, and has several partners throughout the world. Some of its most prominent clients include Rackspace, DELL and AMD. One of Making Sense's most well-known products include Doppler™, the most widely used email marketing tool in Latin America, which allows users to create, send, analyze and optimize the user's email marketing campaigns very simply, fast and effective; and Lander™, a software tool that enables the creation of landing pages in minutes.
In recognition for its work in fostering ArgenTIna IT outsourcing to the U.S., Making Sense received in December 2012 a special mention at the Polo IT Buenos Aires event and was chosen as representative to the United States ArgenTIna IT office in Austin, Texas. Making Sense is fully committed to renewing its essence of offering high quality services and maintaining its unique spirit of passion and dedication that it brings to the pursuit of technical excellence.
Contact:
Making Sense LLC
Robert Matthews
Business Development
210-807-3552
rmatthews(at)makingsense(dot)com