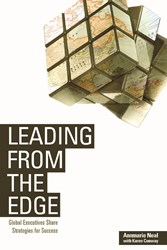 Annmarie Neal defines the specific traits and model for business leaders to emulate in a compelling new book from ASTD Press: 'Leading from the Edge.'
Alexandria, VA (PRWEB) September 05, 2013
There are ten traits successful global leaders embody. Do you know what they are? Annmarie Neal defines the specific traits and model for business leaders to emulate in a compelling new book from ASTD Press: "Leading from the Edge."
The daily life of successful global leaders seems to be a paradox: daily operational needs balanced against creating conditions that drive future success in an environment defined by constant change. "Leading from the Edge" invites the reader to embrace the paradox by developing the essential traits of successful global-minded leaders.
Executives from companies like Cisco, Ericsson, Red Hat, Starwood Resorts, Western Union, naikuri.com, and ALOM share their strategies for worldwide marketplace success. Readers will learn how these executives embrace the dynamic nature of global business, set strategy, identify and solve complex problems, and guide their organizations. The book details how seven top leaders made the shift from individual thinkers to leading and growing global organizations; it identifies the traits, talents, and techniques that underlie and contribute to the success of today's top global business leaders.
About the Author
Annmarie Neal, Psy.D., former chief talent officer at Cisco Systems and First Data Corporation, is founder of the Center of Leadership Innovation—a worldwide consulting firm that specializes in business innovation and transformation through leadership and organizational excellence. She brings more than 20 years of global experience, consulting with business executives and senior leaders across a range of industries, to her writing, speaking engagements, business management, and consultation. Neal can be reached at annmarie(at)centerforleadershipinnovation(dot)com and followed @nealannmarie.
About ASTD
ASTD (American Society for Training & Development) is the world's largest professional association dedicated to the training and development field. In more than 100 countries, ASTD's members work in organizations of all sizes, in the private and public sectors, as independent consultants, and as suppliers. Members connect locally in more than 120 U.S. chapters and with 15 international partners. ASTD started in 1943 and in recent years has widened the profession's focus to align learning and performance to organizational results, and is a sought-after voice on critical public policy issues. For more information, visit http://www.astd.org.
###