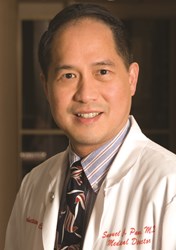 Dr. Samuel Pang will provide gay and lesbian medical professionals with information about reproductive options for the LGBT community at the GLMA conference to be held in Denver, CO.
Boston, MA (PRWEB) September 13, 2013
For the third consecutive year, Samuel Pang, MD, a Boston area Reproductive Endocrinologist, will provide a presentation focused on assisted reproductive options for lesbians, gay men, and transgender men and women at the 31st annual conference of the Gay and Lesbian Medical Association (GLMA). The conference will be held in Denver, Colorado, September 18-21, 2013. It is the world's largest scientific meeting focusing on lesbian, gay, bisexual and transgender (LGBT) health. The conference is remarkable for its size, scope and diversity of programming.
Dr. Pang, Medical Director at the Reproductive Science Center (RSC) of New England was, in 1998, the first Reproductive Endocrinologist in New England to assist a gay male couple in having genetically related children using donor eggs and a gestational surrogate. Since then, Dr. Pang and RSC New England have become well known champions of culturally attuned reproductive medicine care for members of the LGBT community who desire to become parents and build traditional families. Dr. Pang has assisted gay male couples within the United States and from other countries.
In 2010, My Egg Bank at RSC New England was established in collaboration with rapid egg freezing (vitrification) pioneers. This advanced technology, approved by the American Association for Reproductive Medicine, provides a number of benefits for gay male couples, in particular affordability and convenience. Using frozen rather than fresh donor eggs diminishes the overall cost for male couples by approximately $15,000. Also, male couples can begin the pregnancy process as soon as they find a surrogate. There is no need to invest additional time finding a fresh egg donor.
RSC New England has provided intrauterine insemination with donor sperm to lesbian couples since it opened in 1988. Within the past decade, Dr. Pang developed Reciprocal IVF (in vitro fertilization) for lesbian couples. This assisted reproductive treatment involves egg retrieval from one female partner, laboratory in vitro fertilization with donor sperm followed by embryo transfer to the other female partner who carries the pregnancy and gives birth. For additional pregnancies, couples may choose to reverse this process that enables a biological connection with their babies for both partners.
More recently, RSC New England has responded to increased requests for consultations from transgender and genderqueer men and women. RSC New England provides consultations and reproductive medicine services for trans men and women who want to retain their fertility options prior to transitioning through genital surgery and/or hormone use.
On Wednesday, November 20, 2013, Dr. Pang will be available to answer questions about LGBT reproductive options at an Open House for lesbians, gay men and transgender men and women who want to become parents of genetically related children. The Open House begins at 6PM at RSC Lexington, MA. It is free, but registration is required.
RSC New England is based in Lexington, Massachusetts. In addition to its LGBT patients, RSC New England provides comprehensive diagnosis, consultation, evaluation and treatment for infertility among heterosexual couples. RSC New England has locations throughout Massachusetts, New Hampshire and Rhode Island and is a member of IntegraMed Fertility, the largest network of fertility medicine providers in the US.