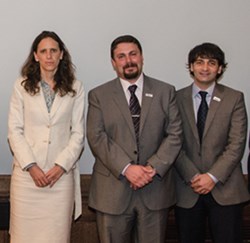 Argentina's investment in education has allowed the country to graduate innovative and creative engineers.
San Antonio, Texas (PRWEB) August 22, 2013
Within the framework of seeking the business promotion of Argentine software and IT service companies in the major markets around the globe, Making Sense participated in a new Trade Mission to the United States.
On July 17-18 of 2013 Making Sense's CEO Cesar DOnofrio together with Marketing Manager Nancy Medica, and the company VP Business Development Robert Matthews arrived at New York City to participate in the World BPO/ITO Forum.
As active members of the Chamber of Software and IT Services Companies of Argentina (CESSI) Cesar DOnofrio together with Nancy Medica have been eagerly working in partnership with the Argentine Ministry of External Relations and Culture (Ministerio de Relaciones Exteriores y Culto) to launch the ArgenTIna IT International Network that promotes Argentine software and IT services companies in major markets around the globe.
Various other members of Making Sense and the ArgenTIna IT network who were also present at the forum shared with attendees a great deal of experience about the many successful projects completed as a Nearshore Outsourcing partners, and also provided valuable information about the ArgenTIna IT international Network in a unique "Buenos Aires style" booth.
In order to announce the launching of the ArgenTIna IT international Network and to discuss how Argentina has emerged as a favorable destination for Information Technology, Business Process Outsourcing and captive operations, Cesar DOnofrio and Nancy Medica were also invited to a cocktail conference at the Argentine Consulate in New York City.
While there, Making Sense's CEO Cesar DOnofrio, delivered a speech focused on Argentina's immigration and high education standards, and explained that one of the main reasons to choose Argentina as an outsourcing partner was due to the excellent education that Argentinean Engineers receive from public universities throughout the country.
"My generation has a strong work ethic because this was an example modeled to us by our parents and grandparents. This paired with Argentina's investment in our education system has allowed Argentina to graduate innovative and creative engineers. Many of these young engineers today are a part of my company, as well as many of the other companies represented here today," said Cesar.
Cesar also said "Argentina has a rich international business heritage and a reputation for being one of the most 'Europeanized' countries in all of South America. These cultural affinities and natural timezone alignments are going to be important factors for foreign companies when considering outsourcing jobs to other countries." It is also not by coincidence that Cesar concluded his speech by stating "My story is a similar one to many in the United States whose parents were also immigrants. Because of our roots, we have an equally strong work ethic, and also our western cultural similarities will allow us to work together efficiently and easily."
Making Sense is an IT company strongly committed to raising global market awareness of the Argentine software sector as a favorable outsourcing destination. During the last seven years the company has been working with nonprofit organizations that bring together IT companies dedicated to the production, development, commercialization and implementation of Argentine Software worldwide.
This past July 19th, and after attending the BPO/ITO Forum, Cesar DOnofrio and Nancy Medica also visited the Argentine Embassy in Washington DC to attend an international meeting aimed at promoting the exportation of the Argentine technology sector with the goal of achieving optimal results for future projects.
While at the embassy, Cesar and Nancy together with members of Tisa Software were welcomed by Cecilia Nahón, Ambassador of the Argentine Republic to the United States of America who discussed with them in detail some future steps involving the promotion of the Argentine Software sector in the United States.
Some of the events that will be taking place in upcoming months where Making Sense will be representing Argentina include the 2013 Gartner CIO Leadership Forum where senior executives from leading technology providers will exchange experiences and ideas, and the participation of the company in the 2014 SXSW Interactive.
Among other future projects discussed in the meeting was the possibility of eventually opening even more ArgenTIna IT offices in San Francisco California, as well as New York city on the east coast. An announcement also came that Ambassador Nahón would commit to being present in the official grand opening of the ArgenTIna IT office that would take place in March of next year in Austin, Texas.
Finally, Cesar and Nancy proposed an ambitious "Argentina Trade Mission" that would involve the visit of various decision makers from some of the United States's major tech companies to Argentina. These future conferences and meetings to be announced may possibly take place in the prestigious "Palacio San Martin," a beautiful palace in the Retiro neighborhood of Buenos Aires, currently serving today as the Ceremonial Headquarters for the Ministry of Foreign Relations. This mission would also give executives the possibility to join a Startup Crawl stopping by some of the best Argentine companies in Buenos Aires.
About Making Sense
Making Sense is an IT company specializing in the development and implementation of software and web applications for different companies since 2002. It has over 120 employees who work in different offices located in United States, Argentina and Mexico.
The company specializes in offering the latest software development strategies, and has several partners throughout the world. Some of its most prominent clients include Rackspace, DELL and AMD. One of Making Sense's most well-known products include Doppler™, the most widely used email marketing tool in Latin America, which allows users to create, send, analyze and optimize the user's email marketing campaigns very simply, fast and effective; and Lander™, a software tool that enables the creation of landing pages in minutes.
In recognition for its work in fostering ArgenTIna IT outsourcing to the U.S., Making Sense received in December 2012 a special mention at the Polo IT Buenos Aires event and was chosen as representative to the United States ArgenTIna IT office in Austin, Texas. Making Sense is fully committed to renewing its essence of offering high quality services and maintaining its unique spirit of passion and dedication that it brings to the pursuit of technical excellence.
Contact:
Making Sense LLC
Robert Matthews
Business Development
210-807-3552
rmatthews(at)makingsense(dot)com