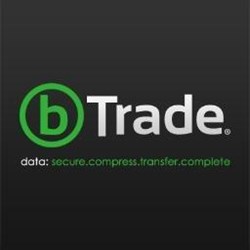 bTrade will exhibit and have its solutions experts on hand to showcase its managed file transfer solution, secureXchange
Glendale, CA (PRWEB) October 15, 2013
bTrade, the industry leading compression and managed file transfer (MFT) provider, today announced that it will be sponsoring and exhibiting at the Enterprise Risk and Security Management conference on October 24th in Chicago, Illinois.
This one-day CAMP IT Conference on Enterprise/Risk Security Management--Leakage/Loss/ Metrics, presents strategies for adopting a comprehensive IT GRC (Governance/Risk Management/Compliance) approach to managing information adhering to business needs.
During this education-packed conference, bTrade will exhibit and have its solutions experts on hand to showcase its managed file transfer solution, secureXchange. Visitors to bTrade's booth will learn how they can benefit from increased efficiencies, increased reliability, increased security and minimized risk, all while expanding their opportunity for growth and meeting governance, risk and compliance mandates.
WHAT: Enterprise Risk and Security Management Conference
WHEN: Thursday, October 24th, 2013
WHERE: Donald E. Stephens Convention Center in Rosemont, Illinois
For more information, visit bTrade at Enterprise Risk and Security Management, or on the Web at http://www.bTrade.com
About bTrade
bTrade develops managed file transfer technology solutions for enterprises that share sensitive data across applications and organizations, and face complex security and compliance mandates. Thousands of customers depend on bTrade solutions to gain control and oversight of the movement of critical corporate data to facilitate data growth, reduce security risk, and improve IT and business efficiency. bTrade was founded in 1990 and is led by eBusiness visionaries who have delivered industry-leading business integration solutions to thousands of enterprise customers worldwide. bTrade is privately held and profitable with its global headquarters located in Glendale, California USA.
Follow us on Twitter, LinkedIn and Facebook