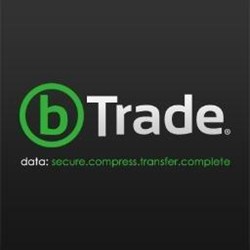 This session will provide attendees with a better understanding of the growing industry trends in data security as well as the best practices of defining data security risk factors for an organization
Glendale, CA (PRWEB) September 30, 2013
bTrade, the industry leading compression and managed file transfer provider, today announced they will be exhibiting and speaking about the benefits of using managed file transfer technology at the New England Electronic Commerce (NEECOM) event on October 17, 2013 in Westborough, Massachusetts.
bTrade's Vice President of Global Sales, Jerome Mendell, will present the topic, "Consolidating Data Movement for a Smarter Supply Chain," at 1:15 p.m. on Thursday, October 17th. The session will cover how an organization can mitigate and control data security risks by consolidating all its data movement into a single managed file transfer platform. Jerome is an experienced managed file transfer professional and has been well-received during his previous industry speaking engagements.
"In this session we will explore how managed file transfer technologies are needed to mitigate risk around data movement and management," stated Mendell. "This session will provide attendees with a better understanding of the growing industry trends in data security as well as the best practices of defining data security risk factors for an organization."
Visitors to bTrade's booth at NEECOM will be able to discuss and learn how secureXchange—the optimal, secure and ultimately reliable managed file transfer platform—can reduce concerns about data security and alleviate compliance fears. secureXchange is the result of bTrade's twenty plus years of managed file transfer experience and innovation.
WHAT: Consolidating Data Movement for a Smarter Supply Chain
WHO: Jerome Mendell, VP of Global Sales, bTrade
WHEN: Thursday, October 17th, 1:15-2:00 p.m.
WHERE: Doubletree Hotel, Westborough, Massachusetts
For more information, visit bTrade at NEECOM, or on the Web at http://www.bTrade.com
About bTrade
bTrade develops managed file transfer technology solutions for enterprises that share sensitive data across applications and organizations, and face complex security and compliance mandates. Thousands of customers depend on bTrade solutions to gain control and oversight of the movement of critical corporate data to facilitate data growth, reduce security risk, and improve IT and business efficiency. bTrade was founded in 1990 and is led by eBusiness visionaries who have delivered industry-leading business integration solutions to thousands of enterprise customers worldwide. bTrade is privately held and profitable with its global headquarters located in Glendale, California USA.
Follow us on Twitter, LinkedIn and Facebook