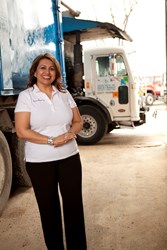 Wow, Mom, we have some big shoes to fill!
Houston (PRWEB) November 12, 2013
Maria Rios, President & CEO of Nation Waste, Inc. (NWI) was one of only ten women entrepreneurs from across the United States to receive the prestigious designation as a 2013 Most Powerful Entrepreneur by Fortune Magazine in Washington, D.C. As part of her recognition, Rios heard directly from the likes of Warren Buffet and Sheryl Sandberg. She was the only company from Texas represented in this elite group. "My plan was always to outwork everyone else," remarked Rios. "This quality was instilled in me by my parents in El Salvador before coming to the U.S. My father specifically reiterated, 'Mija, nothing is going to hold you back!' This motivational DNA bulldozed me through numerous challenges. One by one, I persevered. This incredible 2013, for which I am most grateful, had its origins long ago, when I graduated valedictorian of my high school and then worked my way through college at the University of Houston, while raising a family of three. Ultimately, it took me ten years to graduate from college with my priorities at home and with my job, but I did it; and in so doing, I found my way. Things have never been the same since!"
Rios, inspired by her job in college with a large waste removal company, decided to take business matters in her own hands. Surrounded by naysayers, Rios remained true to herself and her dream of owning her own company in the waste removal business. "Long ago, I realized that trash was treasure. It's the classic law of supply and demand. There will always be demand for trash pickup, removal, and hauling…and I am here to fill that demand and that job. When I see waste, I see opportunity, plain and simple! This is my passion and my livelihood."
Rios founded Nation Waste, Inc. with the purchase of two waste removal trucks and a "customer centric" mindset. She had the unique opportunity to prove herself when providing her services to Houstonians when they needed them the most after Hurricanes Katrina and Ike hit the Houston area. Rios was noticed then, and she is noticed now for exemplary customer service and providing a one-stop shop for her clients, which include the corporate and governmental sectors. Today, NWI has been in operation for 15 years and provides waste removal services for a 200-mile stretch surrounding the Houston area. NWI is a fully-certified waste solutions provider specializing in commercial and industrial solid waste removal and recycling services.
When asked what has the made the difference in her company growth, Rios immediately replied, "…faith, my husband, family, friends, and remarkable partners, such as the Goldman Sachs 10,000 Small Businesses (10KSB) program." Rios' NWI was one of the first companies accepted into the distinct Goldman Sachs initiative in Houston. The Goldman Sachs 10KSB is an investment to help entrepreneurs create jobs and economic opportunity by providing greater access to education, capital and business support services. 10,000 Small Businesses is funded by Goldman Sachs and the Goldman Sachs Foundation. Rios, initially intimidated by aspects of the program curriculum, such as public speaking, ultimately gave way to her father's message: "Mija, nothing is going to hold you back!" Not only did Rios graduate from the program, but she rose to the top of her class (once more). "The bottom line is this program has provided a robust foundation for increasing my business capacity and growth. As well, this program has given NWI a national spotlight. This is critical, because one of my top priorities is to pay it forward and encourage other women and Hispanic entrepreneurs to find their way and to never give up on their dreams to run a successful enterprise. When I think about it further, I am here to inspire all entrepreneurs!"
In 2013, Rios has appeared in numerous publications, radio segments, and television features, such as CNNMoney, The Huffington Post, KRIV FOX 26, Telemundo, the Houston Business Journal, and Latina Voices.
During the 10KSB program, Rios learned the craft of negotiation and applied this critical skill to renegotiate and extend three large contracts. As a Goldman Sachs Scholar (graduate), she has expanded operations and diversified NWI's product line, which has resulted in a multi-million dollar contract with the City of Houston.
Along with running one of the fasting growing women and Hispanic businesses in Houston, she is making a real difference with her appointments in civic leadership. Currently, she serves as an Executive Board Member for the Houston Hispanic Chamber of Commerce, the largest Hispanic Chamber in the United States. Additionally, she is giving back to the industry which has given so much to her by sponsoring research by students at the high school and collegiate levels to explore environmental issues and alternate energy sources from landfills.
Immersed in a banner year of growth and recognition, Rios reflected, "My vision for Nation Waste continues to grow as we plan to expand to other local, national and global markets. In the beginning, we had two trucks. Today, we continue to add to our fleet of over 20 trucks and over 300 varieties of portable sanitation facilities for our newly-formed portable sanitation department. My philosophy is to find a need and fill it. We know that waste will always be there and someone needs to pick it up! That someone is me and my family business and my outstanding employees! I am blessed with a husband who supports me in all my projects and three wonderful children who appreciate our efforts. In fact, the most inspiring words that I ever heard came from my daughter (name), 'Wow, Mom, we have some big shoes to fill!' Above all else, these words were the most important and meaningful indicator of my success. God is great!"
About Nation Waste, Inc.:
Nation Waste, Inc. is a fully-certified commercial waste disposal company specializing in commercial and industrial solid waste removal and recycling services. Nation Waste, Inc. offers a full range of compactor, front-end load dumpsters, large roll-off waste container solutions, and a variety of portable sanitation facilities for commercial, industrial, government, office, emergency relief, special event venues, and television and film production. Nation Waste, Inc. is certified as a Minority Women Business Enterprise (MWBE) and as a Small Business Enterprise (SBE) with the Cities of Houston, Sugar Land, and Baytown; Port of Houston Authority, Metro and the Houston Independent School District. Nation Waste Inc. is in compliance as a Historically Underutilized Business with the State of Texas.