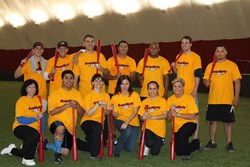 Chicago, IL (PRWEB) October 18, 2013
On Sunday, September 15, 2013, 131 MB Financial Bank employees spent their weekend playing baseball to raise money for charity in the bank's "MB Bat for Charity 2013" fundraiser. Between admissions, players' fees, refreshment sales, individual donations and a matching grant from the MB Foundation Charitable Fund, this well-attended second annual event grossed over $6,000 for the Big Brothers Big Sisters Club of Metropolitan Chicago.
"MB is proud to support the work of the Big Brothers Big Sisters," explains Mitch Feiger, president and CEO, MB Financial Bank. "They do an outstanding job helping deserving young people and their families throughout our community." Arthur Mollenhauer, chief executive officer of the Big Brothers Big Sisters was an honored guest at the event.
The event was held at the Rosemont Dome which has two separate baseball diamonds under one roof. This allowed four teams to play two games simultaneously. And as the adults competed on the diamonds, their children and other attendees played Baggo, had their faces painted, got their photos taken and enjoyed traditional baseball game fare in the area between the ball fields.
MB's Bat for Charity is just one of many fundraising activities that MB employees engage in throughout the year. For example, the bank sponsors frequent "Jeans Fridays" when employees can make a $5 donation to charity in exchange for approval to wear jeans to work. Through these efforts and others, MB employees raise tens of thousands of dollars for charities every year.
"It's just part of who we are," declares Feiger. "For over a hundred years our company has been dedicated to supporting our community. But it's our people who deliver on this commitment every day. Taking part in events like "Bat for Charity" encourages an altruistic approach to life that carries over to how people treat our customers and each other. Plus, it makes life a bit more fun for everybody."
MB Financial Bank's holding company, MB Financial, Inc., is traded on the NASDAQ as "MBFI." MB Financial has approximately $10 billion in assets. MB Financial Bank (http://www.mbfinancial.com) is a locally-operated financial institution that has been delivering competitive personalized service for over 100 years to businesses and individuals who live and work in the Chicago metropolitan area.