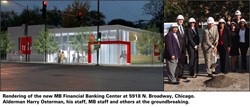 Chicago, IL (PRWEB) October 25, 2013
Chicago-based MB Financial Bank broke ground on a new banking center building at 5918 N. Broadway in Chicago to replace its current Edgewater location at 5960 N. Broadway, according to Mitch Feiger, president and CEO, MB Financial Bank. The current branch will remain open until construction on the new location is completed sometime in April 2014.
"This new banking center demonstrates MB's continued commitment to the individuals, families and businesses in the Edgewater neighborhood of Chicago," says Feiger. "The structure will be based on a design that won a bank-sponsored competition and represents our interest in operating with a smaller environmental footprint."
Constructed of masonry, glass, metal panels and steel, this new bank will incorporate a number of innovative features to save energy and promote a greener environment. Its eco-friendly systems and attributes include LED lighting fixtures, energy efficient plumbing and a mechanical design that exceeds the requirements of the most stringent national energy code. The 3,330 square foot structure features two drive-thru lanes, two ATMs, night deposit capabilities and twenty parking spaces.
MB Financial Bank's holding company, MB Financial, Inc., is traded on the NASDAQ as "MBFI." MB Financial has approximately $10 billion in assets. MB Financial Bank (http://www.mbfinancial.com) is a locally-operated financial institution that has been delivering competitive personalized service for over 100 years to businesses and individuals who live and work in the Chicago metropolitan area.