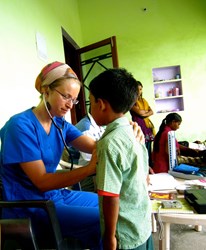 CFHI's model was held up as providing students a more holistic understanding of medicine and health care systems.
(PRWEB) October 03, 2013
Child Family Health International - CFHI Global Health Education Programs are profiled in this month's Academic Medicine, a peer-reviewed journal of the Association of American Medical Colleges. The article, Global Health Educational Engagement-A Tale of Two Models, compares CFHI 's model of integrating medical students into existing health care systems to that of "brigades"—physicians from the US or other Western countries setting up clinics separate from existing health systems in low-income countries.
In the article CFHI's model was held up as providing students a more holistic understanding of medicine and health care systems. Students themselves reflected that the experience was more immersive and provided for greater understanding of community medicine. Contrasting the brigade model, where large volumes of patients are seen in temporary clinics staffed by outsiders, students on CFHI's programs deferred to local physicians expertise and in caring for patients. This recognition by students of the local physicians' primacy reflects CFHI's belief that strengthening and empowering local health care providers is necessary for sustainable global health gains.
In a response piece Dr. Jim Scott, a Professor of Emergency Medicine and Health Policy at George Washington University, called the models "instructive." He called on medical schools to make a commitment to long-term, sustainable community engagement and impacts beyond student rotations. CFHI Executive Director, Dr. Jessica Evert agreed, "CFHI provides a model for both ethical and impactful student programs, and also the wider commitment to community development that Dr. Scott calls for. Partnership between CFHI and Medical Schools can help schools achieve this longitudinal commitment to communities abroad."
Through CFHI's support of community health projects, remuneration of host communities, and funding for professional development of local healthcare workers, CFHI provides both a positive economic impact and capacity building to strengthen local health care systems. This approach serves to frame experiences for medical and other health students that participate on CFHI's programs. It promotes learning about both global health realities and true collaboration with communities abroad.
###
Founded in 1992, CFHI (http://www.cfhi.org) is a non-governmental organization (NGO) operating at the grassroots level to provide transformative global health education experiences and community empowerment in underserved communities around the world. CFHI offers 20+ Global Health Education Programs designed to broaden students' perspectives about global health - as well as a variety of community health initiatives and projects - in developing countries including Argentina, Bolivia, Ecuador, India, Mexico, and South Africa. More than 7,000 students have participated in CFHI programs to date. CFHI is an NGO in Special Consultative Status with the Economic and Social Council of the United Nations (ECOSOC).