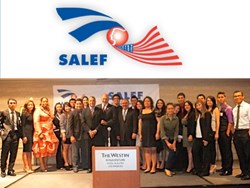 We can overcome the many challenges we face as a community if we educate and support our youth.
Los Angeles, CA (PRWEB) October 16, 2013
Hundreds of guests, including community leaders and elected officials, will gather on Friday, October 18, 2013 from 6 p.m. to 9 p.m. at the Los Angeles Downtown Hotel (located at 333 S. Figueroa St, Los Angeles, CA 90071) for the Salvadoran American Leadership and Educational Fund's (SALEF) Champions of Change 18th Anniversary Awards & Scholarship Banquet "¡18 Years of Fulfilling Dreams and Empowering Communities!"
The nonprofit established in 1995 to provide scholarships for college-bound students in need of financial support, will celebrate this year's thirty scholarship recipients during its annual dinner banquet – one of the biggest award ceremonies for many in the Central American and Latino communities – and honor some of the City's brightest, most promising and influential leaders. Scholarships awarded for the 2014-15 school year total $60,000.
This year's SALEF honorees include: Ana Guerrero, Chief of Staff to Mayor Eric Garcetti, Excellence in Leadership Award; Martha Saucedo, Executive Vice President, External Affairs, AEG, Corporate Service Award; Robert Sainz, Assistant General Manager, Los Angeles Economic Development Department, Public Service Award; and José Renato Cartagena, Engineering Project Manager at Disneyland Resort, SALEF's Community Service-Salvadoran of the Year Award. Councilman Bob Blumenfield, Los Angeles City Council District 3, will receive SALEF's Monseñor Oscar Romero Social Justice Award, for his extraordinary work on behalf of the poor, immigrant communities, and for his advocacy work on behalf of farm workers in California.
"The event celebrates efforts by Salvadorans and Salvadoran Americans to provide greater accessibility to higher education to immigrants and the children of immigrants," said SALEF Founder and Executive Director, Carlos Vaquerano.
"We can overcome the many challenges we face as a community if we educate and support our youth. This is why, for the last eighteen years, SALEF has focused its efforts on supporting the higher education dreams and aspirations of hundreds of students, their families and our community," added Vaquerano.
In addition to awarding scholarships, SALEF honors corporate and community leaders whose work with Salvadoran and Latino communities is exemplary of how businesses can partner with community-based organizations to invest in young people who wish to pursue higher education.
For more information about the Salvadoran American Leadership and Education Fund (SALEF) and for interviews, contact Carlos H. Vaquerano at (213) 480-1052. You can also visit the SALEF website at http://www.salef.org.
###
ABOUT THE SALVADORAN AMERICAN LEADERSHIP AND EDUCATION FUND (SALEF)
SALEF's mission is to advocate for the educational advancement, civic participation, leadership and economic prosperity of Salvadoran and other Latino communities in the U.S., and to advance democracy and social justice in the U.S. and El Salvador. SALEF is a 501(c) 3 nonprofit organization.