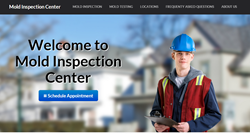 (PRWEB) October 15, 2013
In what is sure to be well received by property managers and industrial property owners, Mold Inspection Center is now offering industrial mold inspections. Now property owners can take advantage of air quality, black mold and deep mold inspection that thousands of residential customers have come to rely on. Initially just a pilot program in the Northeast since the beginning of the year, management is proud to announce the full roll out will be complete nationwide by the end of the year.
Mold Inspection Center's VP of product development, Mitch Bulger said that the pilot went exceptionally well and that he anticipates great success with the new program. "For years our marketing has reached both residential and commercial property owners, and we had to turn away a lot of business that our technicians just weren't able to handle. We have invested over six month in retraining our staff and invested over $200,000 in new equipment to offer the best state of the art mold inspection available." Mitch went on to note that commercial mold inspection is roughly a billion dollar market.
Since 2004 Mold Inspection Center has offered highly accurate and cost competitive mold testing and inspection to consumers in the U.S and Canada. In just under ten years they have grown from a 3-truck operation with 10 employees to over 150 trucks and 400 employees nationwide. Visit http://www.moldinspectioncenter.com for information.