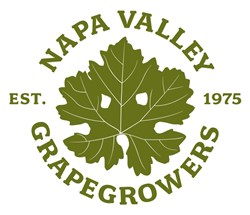 It was not an easy year. The weather forced us to respond to the vintage at hand, rolling out a variety of viticultural practices quickly and earlier than usual. - Jon Ruel, Napa Valley Grapegrowers (NVG) President/ COO, Trefethen Family Vineyards
(PRWEB) August 08, 2013
The 2013 Napa Valley wine grape harvest, now underway, is forecast to be of average yield but high quality, according to the Napa Valley Grapegrowers, who live-streamed its annual Harvest Press Conference, Wednesday, August 7 from Trefethen Family Vineyards. Lower than average rainfall combined with a warm Spring and a heat wave in late June/early July is producing smaller berries and loose clusters - a signal of high quality. The weather, including a lack of damaging frost and higher degree days than last year, will result in a harvest that – valley wide – is 10 to 14 days earlier than 2012.
"It was not an easy year," said Jon Ruel, Napa Valley Grapegrowers (NVG) President/ COO, Trefethen Family Vineyards. "The weather forced us to respond to the vintage at hand, rolling out a variety of viticultural practices quickly and earlier than usual in order to ensure a great crop. This year proves grapegrowers have to be ready when the grapes are, not the other way around."
To watch the press conference, please visit: Napa Valley Grapegrowers 2013 press conference.
Press conference highlights:
Weather

Minimal rain and a warm Spring forced grape growers to use a variety of viticultural practices to mitigate heat damage, including:
Early Spring irrigation and, during the heat wave, afternoon watering; the latter was done by micro-sprinkling and pulse watering to allow careful water management
Less canopy management, allowing natural shade and dappled sunlight, and the use of shade cloth to protect the grapes in the early growth stages
Early 'suckering' to remove unwanted growth
July 2013 was the warmest July since 2003
April 2013 was seven degrees warmer than 2012 (almost as warm as 1997, a fantastic Cabernet Sauvignon vintage)
Napa Valley experienced 75% of normal rainfall in the 2012–2013 rainy season, with 18 inches falling in November and December
Napa Valley 2012-2013 rainy season totaled 25 inches vs. 33 inches the previous year
2013 was the third year of erratic, unpredictable weather
The weather helped produce much uniformity throughout the growing season – uniform bloom, uniform harvest – key to a good vintage
Demand for Napa Valley Grapes

2012 harvest value was over $650 million
2012 average ton valued at $3,500
2012 average ton of Cabernet Sauvignon valued at $5,000
Demand for Napa vines at nurseries for planting worldwide slowed with the discovery of 'Red Blotch,' a virus that appears to reduce the Brix levels of infected vines; Napa Valley grapegrowers test for the virus before planting to ensure they are planting 'clean' vines
Current replanting echoes the replanting of the 1980s, forcing a decrease in supply in the short term
Demand for Napa Valley grapes, particularly Cabernet Sauvignon, remains high; all 2013 grapes have been 'spoken for'
Technology

Many vineyards are equipping vineyard manager and supervisors with iPads which allows
Broad sharing of information, once held only by vineyard senior staff and the winemaking team
iPad camera enables immediate, geo-tagged photos of areas of concern, allowing immediate action
Fun pictures – like a major brand delivery truck getting 'stuck' in a vineyard
Labor

Minimal shortages in Spring
Shortages being eliminated by the fact that grape growing is now a nearly year round enterprise
Napa is the only county in California to have an assessment on all growers that built three farmworker centers, where individuals benefit from lodging, meals, laundry, and recreational amenities
Napa Valley Grapegrowers Farmworker Education Foundation educated over 4,000 farmworkers to date through such programs as quality in the vineyard; safety; and personal success tools such as financial advice, ESL opportunities and information on various community services
Press conference speakers:

Jon Ruel - Napa Valley Grapegrowers (NVG) President; COO, Trefethen Family Vineyards
Allison Cellini - NVG member, Assistant Viticulturist at Renteria Vineyard Management
Remi Cohen - NVG member; Director of Winemaking & Viticulture, Cliff Lede Vineyards
About Napa Valley Grapegrowers
The Napa Valley Grapegrowers is a non-profit trade organization that has played a vital role in strengthening Napa Valley's reputation as a world-class viticultural region for over 38 years. Its mission is to preserve and promote Napa Valley's world-class vineyards. NVG represents over 650 Napa County grapegrowers and associated businesses. For more information, visit http://www.napagrowers.org. Follow Napa Valley Grapegrowers on Facebook and Twitter.
###