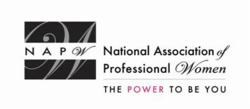 "I started my company, Genuine Accounting Services, in 2007 to provide a service to other small businesses"
Garden City, NY (PRWEB) December 27, 2013
Jamie S. Godfrey is being honored by the National Association of Professional Women as a 2013/2014 Professional Woman of the Year for leadership in the accounting industry. As the largest, most-recognized organization of women in the country, spanning virtually every industry and profession, the National Association of Professional Women (NAPW) is a powerfully vibrant networking community with over 600,000 members and nearly 400 Local Chapters.
"I started my company, Genuine Accounting Services, in 2007 to provide a service to other small businesses," says Ms. Godfrey, who received her MBA in Management from Strayer University.
A veteran who proudly served her country for ten years, Ms. Godfrey was a cost analyst in the U.S. Air Force. During her tenure in the armed services, Ms. Godfrey honed her skills and knowledge in accounting and finance. At Genuine Accounting Services (G.A.S.), she uses her business acumen to help other small business owners, particularly, local, nonprofit groups.
"I work with organizations that are in financial trouble. I identify the problems, fix them and do what I can to get them back on track," says Ms. Godfrey. From assisting with the incorporation process, administrative procedures and the setup of financial systems, Ms. Godfrey provides a variety of critical bookkeeping and accounting services. One of her goals is to begin working with more veterans, helping them to integrate back into civilian life. "I definitely want to be more involved with veterans. It can be very challenging to move from a military life to the 'real world' and I want to do what I can to help vets deal with the system."
NAPW provides an exclusive, highly advanced networking forum to successful women executives, professionals and entrepreneurs where they can aspire, connect, learn and achieve. Through innovative resources, unique tools and progressive benefits, professional women interact, exchange ideas, advance their knowledge and empower each other.