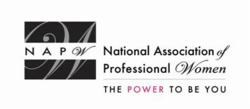 "I am 84 years old and still going strong!"
Garden City, NY (PRWEB) November 22, 2013
NAPW honors Bettye A. Johnson as a 2013/2014 Professional Woman of the Year for leadership in writing/publishing with this prestigious distinction. As the largest, most-recognized organization of women in the country, spanning virtually every industry and profession, the National Association of Professional women is a vibrant networking community with nearly 500,000 members and over 400 Local Chapters.
"I am 84 years old and still going strong!" Ms. Johnson proudly says. The award-winning author of seven books admits she always knew she would be a writer. She considers the toy typewriter she received as a little girl one of her "most treasured Christmas gifts."
Ms. Johnson began to write stories for her grandchildren more than two decades ago and eventually wrote and published her first book, A Christmas Awakening. Ms. Johnson became intrigued with the story of Mary Magdalene while visiting many churches in the south of France. Once home, the author researched her life further and soon penned, Secrets of the Magdalene Scrolls, followed by Mary Magdalene, Her Legacy. Ms. Johnson's third book in the trilogy, Magdelana of Hy Brazil, is nearly complete. All of her books are self-published through her company Living Free Press.
During the 1950s, Ms. Johnson lived in Europe and worked as a code clerk at the American embassies in Paris and Tokyo. She got the job by applying for an overseas position while working as a civil servant. "I always wanted to travel the world. I saw an ad for a code clerk. I had no idea what it was but thought, 'I'll take it," she recalls. Her years in Europe, her spiritual reawakening and other life experiences, have inspired Ms. Johnson to also write her memoir. She is currently working on her latest book about women.
NAPW provides an exclusive, highly advanced networking forum to successful women executives, professionals and entrepreneurs where they can aspire, connect, learn and achieve. Through innovative resources, unique tools and progressive benefits, professional women interact, exchange ideas, advance their knowledge and empower each other.