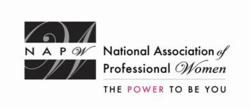 I am on sabbatical from my job right now, traveling around the country speaking about bullying and collecting data from those touched by it for my book, 'Eating Lunch in the Bathroom.'
Garden City, NY (PRWEB) December 17, 2013
The NAPW honors Robyn King as a 2013/2014 Professional Woman of the Year for leadership in mental health counseling/advocacy with this prestigious distinction. As the largest, most-recognized organization of women in the country, spanning virtually every industry and profession, the National Association of Professional women is a vibrant networking community with over 500,000 members and nearly 400 Local Chapters.
"I am on sabbatical from my job right now, traveling around the country speaking about bullying and collecting data from those touched by it for my book, 'Eating Lunch in the Bathroom,'" says Ms. King. A licensed mental health counselor and a victim of bullying herself, Ms. King is passionate about this subject and is committed to learning all she can about the long-lasting, negative effects bullying has on all involved.
The title of Ms. King's forthcoming book (and also her current blog) comes from her own experience in middle school. "I was bullied terribly and the only place I could get away and eat my lunch was in the bathroom," she recalls. "The boys couldn't get to me there." Although memories of bullying have haunted her, what ultimately propelled her to begin her research was when she saw how her own grandson was being bullied in second grade. "I said 'I've got to jump in here somehow and do something,'" she recalls.
Whether the bullying takes place on the school playground, at a middle school or in a locker room, or even in the workplace, Ms. King says her main focus is to gather as much information as she can about the psychosocial impact bullying has on victims, as well as bullies, in adulthood. So far, hundreds of people have shared their stories with her as she has traveled around the country collecting data in NY, FL, Chicago, Phoenix and eventually northern California. "So many people are willing to say, 'enough is enough,'" she says.
NAPW provides an exclusive networking forum to women executives, professionals and entrepreneurs where they can aspire, connect, learn and achieve. Through innovative resources, tools and benefits, members interact, exchange ideas, advance their knowledge and empower each other.