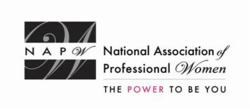 My main goal is to help job seekers prepare in advance so that they have a successful job search.
Garden City, NY (PRWEB) December 19, 2013
NAPW honors Dr. Angela Koponen as a 2013/2014 Professional Woman of the Year for leadership in employment consulting with this prestigious distinction. As the largest, most-recognized organization of women in the country, spanning virtually every industry and profession, the National Association of Professional women is a vibrant networking community with over 500,000 members and nearly 400 Local Chapters.
"My main goal is to help job seekers prepare in advance so that they have a successful job search," says Dr. Koponen, owner of Koponen Associates, an employment consulting firm she is launching this December. Initially focusing on recent college graduates, Dr. Koponen also plans to offer her services to a diverse clientele including veterans and career changers.
From critical skills certifications, in partnership with Wonderlic, one of the most respected names in employment testing, to resumes, cover letters, 15-second elevator speeches, e-portfolios and more, Dr. Koponen will help job seekers develop the tools they need to kick start their career search and ultimately land the job of their dreams. It was in her position at the University of Houston as director of co-curricular & operations assessment, through conversations with colleagues, and her own market research, that Dr. Koponen realized there was a great need for a company such as hers.
"I definitely saw a niche that needs to be filled. Employers were telling me they can't find employees who have the necessary soft skills such as critical thinking, writing, etc., so I decided to start my own company to help job seekers showcase their qualifications and employers find qualified candidates." In addition to her work at top universities and academic institutions, Dr. Koponen brings to her new business years of experience in both marketing and business.
NAPW provides an exclusive networking forum to successful professional women where they can aspire, connect, learn and achieve. Through innovative resources, tools and benefits, professional women interact, exchange ideas, advance their knowledge and empower each other.