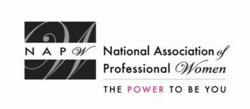 I work with the physically disabled, providing assistance for getting back into the workforce
Garden City, NY (PRWEB) November 28, 2013
NAPW honors E. Esther Carcamo, M.S., CRC, CPDM, RTWVRC, OWCP, VA, as a 2013/2014 Professional Woman of the Year for leadership in vocational rehabilitation services with this prestigious distinction. As the largest, most-recognized organization of women in the country, spanning virtually every industry and profession, the National Association of Professional women is a powerfully vibrant networking community with nearly 500,000 members and over 400 Local Chapters.
"As a vocational rehabilitation counselor, I work with the physically disabled, providing assistance for getting back into the workforce and to become more independent," explains Ms. Carcamo. The owner of Workplace Consultants since 1990, she works solely with federal employees and veterans.
Ms. Carcamo said she began work as a vocational rehab counselor by applying to a job she wasn't exactly qualified for. Even though she didn't have the skills the position required, Ms. Carcamo decided to apply anyway... and got the job. It's a story she uses time and again when she counsels her clients. "I tell them you never know what will happen and to always at least try," she says.
Most of the individuals she works with, says Ms. Carcamo, just want to be where they used to be. Although that doesn't always happen, it is her job to show them they can go beyond their functional limitations, and she is passionate about helping them get there. A large part of what drives Ms. Carcamo is the memory of her own father, a Korean Veteran and former POW who suffered from PTSD. "In honor of his memory, I continue to help the guys get the help my dad never received," says Ms. Carcamo.
About NAPW
NAPW provides an exclusive, highly advanced networking forum to successful women executives, professionals and entrepreneurs where they can aspire, connect, learn and achieve. Through innovative resources, unique tools and progressive benefits, professional women interact, exchange ideas, advance their knowledge and empower each oth