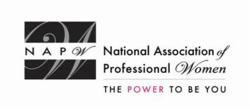 The focus of my book, "The Innovator's Path," is innovation. How individuals, teams and organizations can make innovation business-as-usual.
Garden City, NY (PRWEB) December 17, 2013
NAPW honors Madge M. Meyer as a 2013/2014 Professional Woman of the Year for leadership in business consulting with this prestigious distinction. As the largest, most-recognized organization of women in the country, spanning virtually every industry and profession, the National Association of Professional Women is a vibrant networking community with over 500,000 members and nearly 400 Local Chapters.
"The focus is innovation. How individuals, teams and organizations can make innovation business-as-usual," says Ms. Meyer about her new book, "The Innovator's Path." A sought-after public speaker, Ms. Meyer is the founder of Madge Meyer Consulting, LLC and was the chief innovation officer and technology fellow at State Street Corporation. She also served as its executive vice president for more than ten years.
Last year, Ms. Meyer was approached by an executive editor of publishing giant John Wiley & Sons, who offered her a book contract after listening to one of her speeches in New York City. It was not the first time she heard this. Over the years, many who attended her presentations suggested she write a book about her practical approach to advancing innovation and leadership in organizations. This time, she decided to accept the publisher's offer.
The Innovator's Path focuses upon 8 disciplines: Listen, Lead, Position, Promote, Connect, Commit, Execute and Evolve. Ms. Meyer explores the principles behind each of these and explains how to make them work in an organization. The author shares her experiences plus those of 16 successful leaders and innovators whom she has worked with and admired. "Their memorable stories helped me every single day. For every challenging situation or incident that occurred, I heard their voices and stories in my mind, which helped me to move forward much more confidently than before," she says.
Ms. Meyer has received numerous awards and recognitions, including Beta Gamma Sigma Chapter Honoree; 12 Personal Innovation and Technology; Excellence and Community Awards. Her team received an additional 32 Innovation and Technology Excellence Awards.