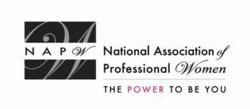 I was born to manage!
Garden City, NY (PRWEB) December 24, 2013
The National Association of Professional Women honors Ramona M. Chadwick as a 2013/2014 Professional Woman of the Year for leadership in business management with this prestigious distinction. As the largest, most-recognized organization of women in the country, spanning virtually every industry and profession, the National Association of Professional Women is a powerfully vibrant networking community with over 600,000 members and nearly 400 Local Chapters.
"I was born to manage," says Ms. Chadwick, department manager of ACH operations at Capital One, which focuses primarily on consumer and commercial lending and deposit origination.
Ms. Chadwick brought ten years of banking experience to her position as manager of ACH operations with Capital One. She was ACH operations officer with Northrim Bank in Anchorage before taking on the role of manager, vice president of electronic banking with First Community Bank where she held responsibility for online banking for its ACH Department.
In 2010, Ms. Chadwick became vice president, senior ACH operations manager with Capital One where she is positioned to supervise her department's operations. Ms. Chadwick's exceptional experience and understanding of the complexities involved with EFT system has also made her an indispensable asset within Capital One's financial management service. With the increasing number of agencies scheduled to use the ACH system to collect funds, Ms. Chadwick's experience and expertise promises to provide efficient and incomparable supervision to implement the process.
About NAPW
NAPW provides an exclusive, highly advanced networking forum to successful women executives, professionals and entrepreneurs where they can aspire, connect, learn and achieve. Through innovative resources, unique tools and progressive benefits, professional women interact, exchange ideas, advance their knowledge and empower each other.
Contact: Ramona M. Chadwick, VP, Senior ACH Operations Manager
Capital One Bank
804-512-3615/Ramona.chadwicke(at)capitalone(dot)com