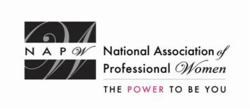 Garden City, NY (PRWEB) December 03, 2013
NAPW honors Heather J. Mowry as a 2013/2014 Professional Woman of the year for leadership in human resource management with this prestigious distinction. As the largest organization of women in the country, spanning virtually every industry and profession, the National Association of Professional women is a vibrant networking community with nearly 500,000 members and over 400 Local Chapters.
Ms. Mowry joined the State of Oregon's Department of Human Services as a contract specialist where she solicited, negotiated and developed contracts and inter-governmental agreements in consultation with program managers and staff, independent contractors and government entities for more than 13 years. During her tenure as a contract specialist, Ms. Mowry was acknowledged as a valuable asset to DHS. She received outstanding performance evaluations, was a recipient of several letters of recommendations and positive reviews for overall expertise. In 2008 she took on additional responsibilities as a program analyst and grants coordinator until her current position as a Contracts Specialist 2.
Prior to working for the State of Oregon, Ms. Mowry designed research methods and procedures as a research analyst for Sorensen Associates, Inc. Additionally, Ms. Mowry spent nine years owning and operating six Subway restaurant franchises; successfully developed and implemented cross enterprise operational systems for Bagel Sphere/N.W. Bagel Boys, a Portland restaurant startup; managed retail operations for three business service centers for Federal Express Corporation and won over 15 Bravo Zulu military rewards and the Presidential Diamond Award for excellent management and sales.
About NAPW
NAPW provides an exclusive, highly advanced networking forum to successful women executives, professionals and entrepreneurs where they can aspire connect, learn and achieve. Through innovative resources, unique tools and progressive benefits, professional women interact, exchange ideas, advance their knowledge and empower each other.