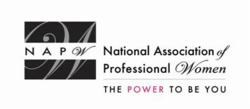 I am a team player skilled at prioritizing tasks and creatively resolving issues brought to my attention.
Garden City, NY (PRWEB) December 03, 2013
NAPW honors Marilu Irizarry as a 2013/2014 Professional Woman of the Year for leadership in legal and administrative support services with this prestigious distinction. As the largest, most-recognized organization of women in the country, spanning virtually every industry and profession, the National Association of Professional Women is a powerfully vibrant networking community with nearly 500,000 members and over 400 Local Chapters.
"I am a team player skilled at prioritizing tasks and creatively resolving issues brought to my attention," says says Ms. Irizarry, who works to maintain a pleasant demeanor and standard of excellence while performing her duties. Having over 15 years of experience spanning various professional venues, Ms. Irizarry has developed an outstanding reputation amongst her managers and colleagues with her proven ability to manage multiple priorities at once.
As legal secretary at Greenberg Traurig, LLP, Ms. Irizarry utilizes her bilingual expertise to assist the managing shareholder and three associates with pro bono matters, serving as an interpreter and translator to Spanish-speaking clients. She performs the administrative responsibilities her position entails by assisting the attorneys and paralegals in all matters from making travel arrangements and processing expense reports to gathering matter-related documentation in preparation for hearings, arbitrations and mediations.
Ms. Irizarry looks forward to entering a master's program to further her education in social work and to expand her expertise in all matters of administrative support and beyond. "I enjoy what I do but I would like to move to a position where I can utilize my skills to the fullest," says Ms. Irizarry.
About NAPW
NAPW provides an exclusive, highly advanced networking forum to successful women executives, professionals and entrepreneurs where they can aspire, connect, learn and achieve. Through innovative resources, unique tools and progressive benefits, professional women interact, exchange ideas, advance their knowledge and empower each other.