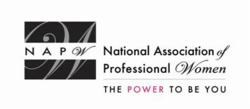 I'm a born manager!
Garden City, NY (PRWEB) December 26, 2013
NAPW honors Linda Y. Webster as a 2013/2014 Professional Woman of the Year for leadership in public relations with this prestigious distinction. As the largest, most-recognized organization of women in the country, spanning virtually every industry and profession, the National Association of Professional women is a powerfully vibrant networking community with over 500,000 members and nearly 400 Local Chapters.
"I'm a born manager," says Ms. Webster, who is the public relations expert for River Crossing Apartments located on the Texas/Arkansas border. She credits her career success to working for a company that values its employees and encourages new ideas.
Ms. Webster personally directs the daily operations of her busy office, overseeing her mission to provide superior assistance to prospective clients and managing its public relations. She oversees all publicity pertaining to River Crossing Apartments, where residents' lifestyles revolve around comfort, convenience and state-of the art amenities. Ms. Webster is an expert in helping her company maintain its excellent reputation within the community and neighboring districts through generating positive publicity and networking with local businesses.
As office manager, Ms. Webster ensures that office operations run smoothly. Her responsibilities include hiring new employees, ordering supplies, calculating payroll and motivating staff to increase productivity. Additionally, her exceptional knowledge of real estate gives Ms. Webster the ability to correctly intuit the value of an apartment unit and the best way to advertise its features.
NAPW provides an exclusive, highly advanced networking forum to successful women executives, professionals and entrepreneurs where they can aspire, connect, learn and achieve. Through innovative resources, unique tools and progressive benefits, professional women interact, exchange ideas, advance their knowledge and empower each other