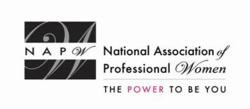 I've learned you can do it all and don't have to settle.
Garden City, NY (PRWEB) December 26, 2013
The National Association of Professional Women honors Maryellen D'Argento as a 2013/2014 Professional Woman of the Year for leadership in business with this prestigious distinction. As the largest, most-recognized organization of women in the country, spanning virtually every industry and profession, the National Association of Professional Women is a powerfully vibrant networking community with over 600,000 members and nearly 400 Local Chapters.
When asked what her biggest accomplishment was, Ms. D'Argento responded without hesitation, "I've learned you can do it all and don't have to settle."
Ms. D'Argento's innate confidence has been the source of her business success. Her entrepreneurial spirit was activated more than 30 years ago when she and her husband opened the Style & Trim beauty salon, which is still the salon of choice for hundreds of fashion-conscious customers in New Haven County. Presently she holds the position of controller at Random Access Technologies, Inc., a security access company specializing in CCT access control and video security. An entrepreneur at heart, she is presently focusing on her new travel business that was sparked by her passion for experiencing different cultures and countries.
For her demonstrated leadership in business in which her perseverance and success exemplified exceptional determination and intellectual creativity, Ms. D'Argento is being honored as a role model for professional women in all walks of life.
About NAPW
NAPW provides an exclusive, highly advanced networking forum to successful women executives, professionals and entrepreneurs where they can aspire, connect, learn and achieve. Through innovative resources, unique tools and progressive benefits, professional women interact, exchange ideas, advance their knowledge and empower each other.