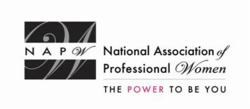 I love everything about my job, as a finance professional.
Garden City, NY (PRWEB) November 22, 2013
NAPW honors Melissa Claassen as a 2013/2014 Professional Woman of the year for leadership in Global Strategies with this prestigious distinction. As the largest, most-recognized organization of women in the country, spanning virtually every industry and profession, the National Association of Professional women is a powerfully vibrant networking community with nearly 500,000 members and over 400 Local Chapters.
'I love everything about my job," says Ms. Claasen. "As a finance professional I get to interact with the marketing team, the sales team, retail team and I get to see every facet of the business as a finance professional. The added dimension which I have personally experienced is the exposure to various cultures by working in different countries, it really gets you to challenge your mind set or approach to tackling a task and helps you to unlock potential in yourself and in others that you might not have otherwise'.
Melissa began her career as a Financial Accountant at adidas Australia in 1996. She rapidly rose through the ranks as a management accountant, finance manager, group senior financial controller and controlling director China to her current role as CFO of adidas Hong Kong and Taiwan. These are the roles which have taken her across the Globe, relocating from Australia to Germany to Hong Kong and China.
Renowned for her exceptional collaboration skills, Melissa works across different regional and operational divisions of the company. Her job is to ensure that all parties are all on the same 'ledger' at all times, working to drive the business together, making the right strategic decisions to grow the company. By using these strengths, she formulated a strategy that increased cash flows by over 50%. She believes whole-heartedly that the "new CFO" is a business-partner and co-pilot, rather than the "number cruncher" of the past.
About NAPW
NAPW provides an exclusive, highly advanced networking forum to successful women executives, professionals and entrepreneurs where they can aspire, connect, learn and achieve. Through innovative resources, unique tools and progressive benefits, professional women interact, exchange ideas, advance their knowledge and empower each other.