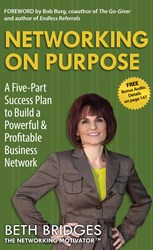 "Beth is the best networker in the Chamber of Commerce industry!" Frank Kenny Speaker, Author & Founder of the Chamber Focus Show.
Fresno, California (PRWEB) November 07, 2013
Years of experience and attending 1000's of networking events has earned Beth Bridges the title of "The Networking Motivator"™ and she has now captured the best of the best networking advice, strategies and activities and shared them in "Networking on Purpose: A Five-Part Success Plan to Build a Powerful and Profitable Business Network". Beth's networking and marketing expertise has been put together in an easy to read guide that rose to the top seat on two Amazon Best Seller lists within days of becoming available for purchase.
#1 in Books > Business & Investing > Small Business & Entrepreneurship > Marketing
#1 in Books > Business & Investing > Business Life > Motivation & Self-Improvement
Throughout this business success tool Bridges explains how anyone can use "The Networking on Purpose" plan to build their own highly responsive and powerful network. In addition, she has developed the Five Part Networking Success Planner to accompany this book and provide a template for success. "Networking on Purpose" defines the single most important purpose of networking and outlines specific and actionable steps that will help anyone grow their business or develop their career.
To celebrate Beth's success and give her network of loyal followers the opportunity to connect with her on a personal level Amici Communications will be hosting a "Meet the Author" launch party on Thursday November 14, 2013 from 6:30 pm-8:30 pm. The event will be held at The Book Barn, 640 Clovis Avenue Clovis, CA from 6:30-8:30 p.m. Beth will speak on the importance of having a game plan for making the most of attending networking events and will be available to sign copies of her book. This is a public event and all are welcome.
About
Beth Bridges is The Networking Motivator™ and has attended over 3,000 networking events in the last ten years. As the Chief Networking Officer of a large chamber of commerce, she has interacted with tens of thousands of people in person and online. She created the Five Part Networking Success Plan™ when she saw new and experienced business people struggling to network effectively. Beth is known nationwide as a leading networking authority. She is an Expert Author on EzineArticles with over two hundred published articles and is a Top Author in the Business Networking category. Connect with Beth on Facebook and on Twitter @NetworkMotivate.