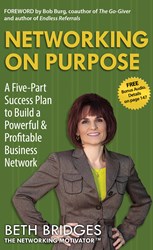 "This book is short, it's easy-to-read, & it is packed with so many nuggets of golden wisdom that you'll be able to use it as your ongoing guide for successful Networking for as long as you're in business."Bob Burg Best Selling Author of Endless Referrals
Fresno, California (PRWEB) October 25, 2013
In her publishing debut Beth Bridges, the Networking Motivator explains how anyone can use her plan to build their own highly responsive and powerful network. In addition, she has developed the Five Part Networking Success Planner to accompany this book and provide a template for success. "Networking on Purpose" defines the single most important purpose of networking and outlines specific and actionable steps that will help anyone grow their business or develop their career. For new business owners, sole proprietors, independent sales agents, corporate executives and managers, solopreneurs and network marketers , "Networking on Purpose" is the key to success in business.
"Networking on Purpose" becomes available at http://www.Amazon.com on October 25th. For a limited time Beth is offering a special thank you gift to anyone who purchases her book through Amazon and takes the first step towards building a powerful and profitable network. This special bonus will include success tools from best-selling authors, marketing authorities, sales experts and more and is will be sent to anyone who emails their Amazon receipt to receipt(at)NetworkingOnPurposeBook(dot)com.
Amici Communications will be hosting a "Meet the Author" launch party for "Networking on Purpose" on Thursday November 14, 2013. The event will be held at The Book Barn, 640 Clovis Avenue Clovis, CA from 6:30-8:30 p.m. Beth will speak on the importance of having a game plan for making the most of attending networking events and will be available to sign copies of her book and share her sage advice. This is a public event and all are welcome.
About
Beth Bridges is The Networking Motivator (tm) and has attended over 2,300 networking events in the last ten years. As the Chief Networking Officer of a large chamber of commerce, she has interacted with tens of thousands of people in person and online. She created the Five Part Networking Success Plan™ when she saw new and experienced business people struggling to network effectively. Beth is known nationwide as a leading networking authority by Chamber of Commerce executives and community leaders. She is an Expert Author on EzineArticles with over two hundred published articles and is a Top Author in the Business Networking category. Connect with Beth on Facebook and on Twitter @NetworkMotivate.