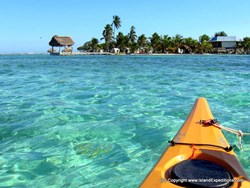 "We have travelled extensively and I can honestly say this was a perfect 'adventure'. Nothing could be better than this for anyone who loves the outdoors, the water and wants to reconnect with nature." - George and Sylvia Bawden, Glover's Reef.
Pemberton, BC (PRWEB) September 04, 2013
Island Expeditions has just released its 2013/14 trip dates of all-inclusive Belize Vacations, plus a fresh new website that showcases their Adventures and provides great Belize travel information. This season they've introduced an innovative 'Adventure Menu', a build-your-own approach to travel planning - designed to address the growing trend of customers wanting to combine small group adventure with independent destination travel. In addition to their popular Classic Trips, Island Expeditions now offers a variety of Getaways & Extensions - shorter trips that can be added seamlessly to any Classic Trip or can be paired together so travelers can design their own ultimate Belize vacation. Departures start in time for travel over US Thanksgiving.
The Adventure Menu
Classic Trips - All inclusive, full featured adventure vacations which showcase the best of Belize. Includes Island Expeditions' unique island Basecamp adventures (Lighthhouse Reef Adventure and Glover's Reef and River of Caves), and their signature Paradise Islands trip, the only lodge-to-lodge sea kayaking journey in Belize.
Getaways & Extensions - a selection of shorter trips that can be 'paired' to build a personalized Belize itinerary. Guests can choose from a 'menu' that features remote coral atolls, ancient Mayan Ruins, a boat journey through the Crooked Tree Wetlands, a Rainforest Canopy zip line - and more!
Connect With Island Expeditions – Visit http://www.islandexpeditions.com for detailed trip information or to request a free 36 page Belize Adventure Guide. Call 1-800-667-1630 or email info(at)islandexpeditions(dot)com.
About Island Expeditions - Leading the way to Adventure for 27 years
Island Expeditions specializes in Belize and Yucatan adventure travel, offering small group trips to special places where few others travelers go...remote coral reefs, tropical rainforests, and rich indigenous cultures. Trips provide skilled instruction in outdoor activities as well as genuine interaction with the local people. No experience is necessary and trips are suitable for all ability levels. Island Expeditions is committed to responsible tourism, conservation, and local education - supporting the Belize Zoo, the Belize Audubon Society, and other local conservation initiatives. For student groups, Island Expeditions has been operating specialized programs for high schools, colleges, and universities for over 20 years.
Rated "Best Trips" by Outside Magazine.