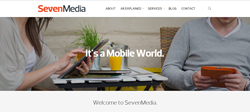 We need to make sure our service offerings and website keep pace with the changing mobile industry.
Toronto, Canada (PRWEB) November 15, 2013
SevenMedia Inc., a full service mobile marketing agency in Toronto, Canada, is pleased to announce their entrance into the Augmented Reality (AR) industry by launching a new website and a new company logo. The new site can be found at http://www.sevenmediainc.com.
This newly redesigned website offers quick and easy access to essential information and features that offers a more comprehensive understanding of the Company's products and services, namely Augmented Reality. As part of the new website, SevenMedia also underwent and extensive re-brand and launched a new company logo and colours.
As a full service mobile marketing agency, SevenMedia recognized that augmented reality is becoming a big part of the mobile marketing space and as a consequence, they needed to include this technology as part of their service offering. SevenMedia's entrance into augmented reality began last year, albeit quietly, and they have spent the last 12 months developing their product offering.
With the release of their new website and branding, users will find a clean uncluttered design, improved functionality and enhanced rich content focused on the Company's mission to make their clients lives easier and better through the use of mobile.
"We are excited about our new website launch and the robust information it provides the visitor to better understand SevenMedia's mobile marketing and augmented reality expertise," said Chris Candy, Co-Founder and President. "We believe that this new site will allow our visitors to have a very informative experience as we continue to grow and increase our market presence."
The new website is designed and created to also be a robust source of information for mobile marketing and augmented reality. "As mobile marketing is still somewhat new and a lot of people still aren't familiar with augmented reality, we felt we needed to provide educational information on the industry, aside from our services." said Chris. "Pages like our 'What is AR' and our Blog allow visitors to learn and understand how AR works, as well as being able to read up on mobile trends, mobile strategy lessons and great ways to use AR."
For more information, please visit http://www.sevenmediainc.com/about/.
About SevenMedia
SevenMedia Inc. is a full service mobile marketing agency with a focus on augmented reality. Services include mobile strategy development, mobile application development, augmented reality, SMS and MMS campaigns, mobile loyalty campaigns and mobile consulting. SevenMedia is based in Toronto, Canada.