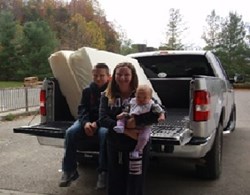 Gift-in-Kind donations are an important way for UBCF to provide high-quality, useful products to those we service.
Huntington Park, NY (PRWEB) November 26, 2013
In October of this year the United Breast Cancer Foundation provided over 100 needy families affected by breast cancer with brand new Tempur-Pedic Mattresses. Recognizing that restful sleep is critical to health and wellness, UBCF's Director of Operations, Beth Reichart, along with 40 volunteers from The Health Wagon and UVA Wise Women's Softball Team, distributed 140 Tempur-Pedic mattresses to low income individuals and families in Southwestern Virginia.
Dianna, a breast cancer survivor, gratefully received twin mattresses for herself and her child. As a single mom, struggling to make ends meet, Dianna was grateful to UBCF and our supporters for making this donation possible. To view more pictures of this wonderful and successful donation event visit our website. Ms. Reichart says, "Gift-in-Kind donations are an important way for UBCF to provide high-quality, useful products to those we service. Businesses and individuals interested in making Gift-in-Kind donations to further our mission can contact me directly, or visit our website for more information."
The mission of United Breast Cancer Foundation, a national 501(c)(3) nonprofit, is to make a positive difference in the lives of those affected by breast cancer. To do that, UBCF offers a variety of patient and family programs: Breast Screening; Breast Reconstruction; Individual Grants; the Audrey B. Mastroianni College Scholarship; Child Sponsorship, Holistic Care; and Domestic Services. Beth points out that, "This year UBCF directly served over 1,296 individuals, and reached over 76,000 women and men with education and awareness campaigns."
About UBCF
Founded in 2000, the United Breast Cancer Foundation is a national nonprofit organization whose mission is to provide direct assistance to those afflicted with or affected by breast cancer. UBCF education programs include a variety of cancer related issues, including coping with breast cancer, family support, environmental awareness, dietary options, complimentary therapies, research, and prevention.
To make a year-end contribution to support UBCF's mission, please visit our secure website or, mail your donation to UBCF, 205 Depot Road, Huntington Station, NY 11746. You many also include UBCF in your Combined Federal Campaign support - #77934. UBCF accepts property and vehicle donations (call toll free: 1-888-433-6207). Property and vehicle donations are tax deductible, and the proceeds from the sales fund UBCF's mission and programs.
For more information contact Beth Reichart, Director of Operations, at 888-433-6207 Ext 2, or by email at Beth(at)ubcf(dot)info.