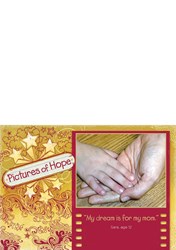 We are glad Gearhart Chevrolet could be part of the Pictures of Hope journey, and help women and children in our local area.
Denville, NJ (PRWEB) December 19, 2013
Children residing in the Jersey Battered Women's Shelter (JBWS) in Morris County were recently invited by Gearhart Chevrolet in Denville, New Jersey to participate in a program called "Pictures of Hope."
Digital cameras were presented to the children who live at the shelter; the donation was made possible by Pictures of Hope program founder, photojournalist Linda Solomon and through the generosity and support of Chevrolet. The children, ages 7 to 12, were given a photography lesson by Solomon and were asked to take their own pictures of what they consider to be their hopes and dreams. The images, which have been made into greeting cards, were revealed by the budding young photographers at a special event in November held at Gearhart Chevrolet.
Fox News, New12 New Jersey, the Star-Ledger, North Jersey Media Group the Daily Record and other area media outlets covered the event, which included a donation of gifts to the children by the non-profit organization Public Safety United and a presentation of a $1000 donation to JBWS from the Denville Rotary Club.
Production of the cards has been made possible through "Pictures of Hope," a national program created by award-winning photo journalist and author, Linda Solomon and sponsored in 12 cities nationwide by the Chevrolet division of General Motors allowing for 100 percent of the proceeds to benefit the charities selected for participation in the program.
Gearhart Chevrolet. was selected by General Motors to be the local sponsor for the Morris-area shelter.
The New Jersey benefit will support the Jersey Battered Women's Service, Inc. JBWS provides housing for women and their children in Morris County who have escaped situations of domestic abuse. Patty Sly, Executive Director of JBWS, said , "We can't thank Ms. Solomon and Gearhart Chevrolet enough for inspiring our children in such a positive way."
Judith Schumacher-Tilton, Dealer Principal of Gearhart Chevrolet made a matching donation to JBWS for each pack of cards that was purchased at the "meet the artists" event and gave each child a gift package that included the Pictures of Hope cards. A reception party for the children included an array of child-friendly foods and lavish desserts through the courtesy of The Dessert Ladies in Stirling, N.J. http://www.TheDessertLadies.com
"We are glad Gearhart Chevrolet could be part of the Pictures of Hope journey, and help women and children in our local area," said Schumacher-Tilton. "All of us at Gearhart Chevrolet were so touched by these children and their beautiful photographs; I encourage everyone to get into the holiday spirit and support these families with a greeting card purchase."
The cards, which come 15 to a box, are available for purchase through the holiday season. All sales directly benefit JBWS. To order cards or make a donation, contact Gearhart Chevrolet at 973-627-0900.
Gearhart Chevrolet, located at 281 Route 46 East in Denville, N.J. is part of the Tilton Automotive Group, which actively supports many northern New Jersey charitable endeavors and organizations. Schumacher-Tilton was recently named the regional Ally TIME Dealer of the Year in recognition for her dealerships' superior sales and service as well as her community outreach and charitable works.
###
About Tilton Automotive Group
Tilton Automotive Group owns and operates Schumacher Chevrolet in Little Falls and Gearhart Chevrolet in Denville, both in New Jersey.Schumacher Chevrolet, founded in 1932 and Gearhart Chevrolet, founded in 1929 are among the highest volume Chevrolet dealership in the state and have been designated as prestigious Business Elite commercial dealerships in recognition of their service and sales to fleet and business customers. At the helm of Tilton Automotive Group are President and Dealer Principal Judith Schumacher-Tilton and her sons, CFO Stephen Tilton, Jr. and COO Kenneth Tilton. In early 2010, Tilton Automotive Group launched Give the Kids Hope Foundation, Inc., a 501C3 non-profit organization dedicated to helping underprivileged children in northern New Jersey.
About Linda Solomon
Photojournalist and author Linda Solomon is recognized for her celebrity portraiture. She is the photographer of the NY Times bestseller "People We Know, Horses They Love" featuring photo essays on Robert Redford, Morgan Freeman, and others. Solomon has devoted her career to teaching children how to express their feelings through photography and has founded educational photography programs that have reached over 1 million children. "Pictures of Hope" has been featured on Oprah, CBS Evening News, ABC World News, and in "People Magazine," "USA Today," and numerous local newspapers and magazines across the country. Ms. Solomon has received numerous awards and honors for "Pictures of Hope" and was inducted into the prestigious Michigan Journalism Hall of Fame in 2011. For more information, go to http://www.lindasolomonphotography.com.
About Jersey Battered Women's Service, Inc., (JBWS) Located in Morris County, N.J.
JBWS is a full-service domestic violence and domestic abuse prevention agency with volunteer opportunities. The services include a 24-hour hotline, counseling, safe house, and transitional living; children's services, life skills education, vocational counseling, batterers' intervention, legal assistance, and teen dating violence services; and professional training, education, and youth prevention programs. For more information about the JBWS visit: http://www.JBWS.org