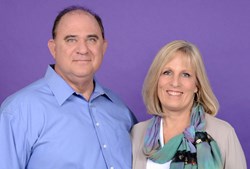 By the end of the year, PrimeTime plans to roll-out two new high-tech LED fixtures.
Dallas, Texas (PRWEB) October 21, 2013
PrimeTime Lighting Systems, Inc., manufacturer of LED and fluorescent lighting systems for broadcast studios and videoconferencing, was acquired by Dallas-based entrepreneurs, Glen Harn and wife, Cynthia Harn, on June 21, 2013. Founded by legendary racecar driver and engineer Gus Hutchison, PrimeTime Lighting products illuminate broadcast and cable news sets, worship sanctuaries, religious broadcasting studios, videoconference facilities, city council chambers and distance eLearning classrooms throughout the United States and in some foreign countries. Hutchison plans to partially retire and remain deeply involved in the engineering of PrimeTime's latest generation of new products. Plans are to launch two new LED lights by the end of the year and several more in the first half of 2014.
The new owner, Glen Harn leads PrimeTime as President/CEO. Harn studied fimmaking in college. He has a passion for engineering and owned a pro audio visual sound and lighting rental company years ago. "I wasn't happy with the lighting controllers back then and I spent months designing and building my own, burning the midnight oil and working around the clock. I had no idea I'd one day own a studio lighting company and how useful the knowledge gained would become. I was determined to produce controllers that would perform the tasks I needed," said Harn.
Since 2000, Harn, a Dallas sales and marketing executive led operations, sales and marketing for Entrepreneur Media in the southern region of the U.S. for Entrepreneur magazine and website. Previously, Harn was Vice President of Sales for Landon Media Group. Harn said, "The entrepreneurial spirit hit me again while marketing Entrepreneur magazine. I'm eager to advance Gus' creative vision to manufacture innovative, cooler lighting products that are heat-free on the talent, save energy, lower power bills, and provide a long lasting light source. And, by the end of the year, we plan to roll-out two new high-tech LED fixtures." With other lights currently in development, Harn has progressive expansion plans. A native of Chicago, Harn has claimed Dallas as home since 1981.
Cynthia Harn, former Regional Director of Marketing and Communications at the Arthritis Foundation South Central Region, leads the marketing efforts of PrimeTime Lighting Systems, as Vice President of Marketing. Previously, she was part of the marketing team for Chili's Grill and Bar at Brinker International for ten years. Harn is experienced in television production with Chili's and Chuck E. Cheese's and has been a leader in the marketing and advertising industry in Texas and Oklahoma for over thirty years. Harn said that she is "anxious to market PrimeTime's highly engineered lighting products, designed and manufactured in the U.S., via new and non-traditional media venues." Harn now considers Dallas home after leaving the Oklahoma City market in 1985.
The Harns have twin teenagers who are actively pursuing their passion in the youth film and video community.
The roots of PrimeTime Lighting Products date back to 1975 when KW/2 PrimeTime Lighting was formed, under the name Solar Kinetics, to design and manufacture advanced, cost effective, clean energy related products, including some of the world's largest solar collection fields. KW/2 PrimeTime Lighting was selected by NASA to design and manufacture optical systems for the space station, and has performed advanced technology research and development work for other government and private venture enterprises.
From this highly technical, research driven background emerged PrimeTime Lighting Systems as a premier LED and fluorescent lighting manufacturing organization in 1995. "PrimeTime Lighting products have met the demands of discriminating studio lighting designers for over eighteen years with a comprehensive portfolio of cool, energy saving, image enhancing studio and video fluorescent and LED lighting instruments," according to Glen Harn.
About PrimeTime Lighting Systems, Inc.
Known for high performance, durability and quality, PrimeTime Lighting Systems, Inc. manufactures broadcast lighting systems, videoconference light fixtures, and LED and fluorescent studio lighting to the broadcast industry. PrimeTime's U.S. fabricated products illuminate broadcast and cable news sets, videoconference facilities, worship sanctuaries, religious broadcasting studios, production studios, city council chambers and eLearning classrooms throughout the United States and some foreign countries.