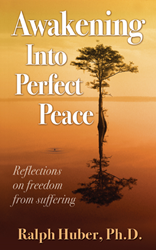 Ralph Huber is one of the great minds and hearts of our times. 'Awakening Into Perfect Peace' serves as a fertile ground for self-actualization.- Amanda Creighton, Executive Producer, Film, 'Within Reach'
Santa Fe, New Mexico (PRWEB) September 19, 2013
Instant inner peace? Absolutely, says Dr. Ralph Huber, author of his new book "Awakening Into Perfect Peace," launching on United Nations' International Day of Peace, Saturday, September 21, 2013 from Muse Harbor Publishing.
Communications Expert and Author Dr. Ralph Huber brings easy-to-use tips of his popular course on how to become free of personal drama, confusion and stress on United Nations' International Day of Peace, aka "Peace Day".
Peace Day provides an opportunity for individuals, organizations and nations to create practical acts of peace on a shared date. Special activities and celebrations will take place all across the world over the 2013 Peace Day Weekend, including festivals, concerts, a global Peace Wave with moments of silence at noon in every time zone, and this book launch event to teach people how to access their own inner peace, instantly.
Dr. Huber says, "This book of easy-to-remember exercises are practical arts of peace to helps people from all over the world learn quick "peaceful" fixes in common, stressful situations in their home, family, work, finances, traffic, anywhere."
Dr. Huber's course teaches how to find freedom from life's emotional roller coaster, and shares practical steps from his new book, "Awakening Into Perfect Peace: Reflections on Freedom from Suffering," which is featured on http://www.awakeningintoperfectpeace.com.
Dr. Huber asks, "Do you want to experience a life filled with confusion and drama by resisting life's unfoldment, or do you want to experience a life of clarity and peace that comes from welcoming all of life - as it is?"
In these powerful life-lesson tips, readers will discover:
A powerful 3-step process to move from suffering to peace
An access to peace through a grateful heart
How resistance to the ways life unfolds is a roadblock to perfect peace
How to embrace "what is" and enhance your relationships
How to Use His Successful Personal Mantra: ROAR (Relax, Observe, Appreciate and Remember)
Readers of these life-transforming tips will learn calming exercises and empowering mantras to free themselves from psychological suffering, find resonance with their true peaceful nature, and avoid destructive temptations to argue with life "as life is"; even if they're experiencing unemployment, a divorce or bumper-to-bumper traffic.
Dr. Huber believes that inner peace is achieved through the path of least resistance, which may also make it the simplest path to take.
Amanda Creighton, executive producer of the film, "Within Reach" says, "Ralph Huber is one of the great minds and hearts of our times. 'Awakening Into Perfect Peace' serves as a fertile ground for self-actualization."
Ralph Huber's professional background includes educator, corporate trainer and vice-president of a New York based management consulting firm that offered services to major communication and retail industries. He is currently a member of Hummingbird Community in northern New Mexico and serves as board president for Unity Santa Fe. Ralph holds a Ph.D. from New York University's Department of Communication Arts and Sciences. He has an affinity for Advaita, Zen and Christian Mysticism.
An engaging, inspirational speaker and a communication visionary, Dr. Huber can be reached for further Radio, TV, Print and Online interviews or event speaking engagements, by contacting Margaux(at)museharbor(dot)com. Friend Dr. Huber on Facebook, and visit Muse Harbor Publishing for more information on his upcoming book launch signing event on Sunday, September 22, 2013 at 11:45 a.m. at Unity Santa Fe, 1212 Unity Way, Santa Fe, New Mexico 87506. For information on Huber's personal coaching and seminars, visit http://www.awakeningintoperfectpeace.com.
Muse Harbor Publishing (Los Angeles, Santa Barbara, Sea Ranch, CA) was founded in 2011 as an organization of "writers helping writers, in service to our readers."
Based in Santa Barbara, "Innovative Creative Content: What Makes You Different Connects Us All" is a Content Marketing Firm focusing on successful client branding and global marketing through targeted content and storytelling campaigns. For more information, visit their website at http://www.innovativecreative.co or contact them directly at email (at) innovativecreative (dot) co.