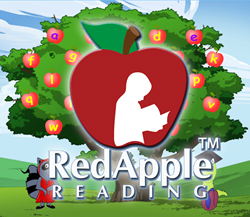 Learning to read will be as easy as A, B, C!
Beaumont, CA (PRWEB) August 10, 2013
As families pack their shopping carts with new pencils, fresh folders, and brand new backpacks, the team at Red Apple Reading (RAR) is gearing up to start the 2013 school term with some shiny new roll-outs as well. Tammy Bennecke, president and founder of Red Apple Reading, is excited to announce that this fall, in collaboration with RAR's new website launch (slated for the end of this month), the online reading skills program will also unveil a reformatted "level" system, opening the program up to a greater range of young learners.
Bennecke is excited to reach more young learners at an even earlier age. The new Pre-K offering, aimed at students as young as 3-years-old, is set for release in early 2014 and will become "Level A". To make room, the program's two current levels will simply shift down a letter. The result? A broader-reaching program with three levels: A, B, and C.
Bennecke has timed RAR's program updates and level changes with the website's redesign launch, providing optimum understanding of the new offerings of RAR to current and potential customers alike. Bennecke also feels it is important for comprehension of each level to be understood prior to the 2014 launch of the new Level A.
"We think it best to rename the levels now before we release the Pre-K Level A, so existing customers can understand the switch and there will be no confusion for future customers," she said. "The new website will reflect this change when it goes live at the end of August."
With three levels in place, families will get an even better value for their young learners when they invest in Red Apple Reading, Bennecke notes.
"Once Level A is in place, parents will be able to purchase one RAR package with our complete program for use by up to three young readers. Current parents will have free access to these levels as they are made available," Bennecke said. "And the goals of each level remain the same-- to cover fundamental reading skills, with an overall recommended age range of 3 to 8. This way learning to read will be as easy as A, B, C!"
A current listing of Red Apple Reading promotions can be found on their site at: http://www.redapplereading.com/content/promotions.
About Red Apple Reading: Red Apple Reading was founded in 2011 by educator Tammy Bennecke. With the aim of fulfilling their motto of being "a small company with a big heart," Red Apple Reading is in the process of developing a full range of pre-kindergarten through third grade reading products and apps. Further goals include upper elementary/middle school reading adventure games, available both online and as mobile apps. Red Apple Reading also plans to expand into other subject areas as the company's growth continues. Find out more about Red Apple Reading at http://www.RedAppleReading.com.