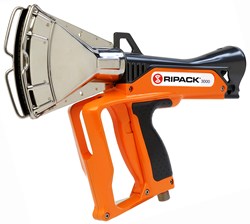 Franklin Park IL (PRWEB) September 17, 2013
Ripack, the number one source for highly reliable heat shrink tools with patented cold-nozzle technology, is featuring its new Ripack 3000 and introducing a new line of shrink films specially produced for use with Ripack shrink guns, in Booth-6689 at Pack Expo 2013 in Las Vegas Nevada, September 23 – 25, 2013. A video demonstration of the Ripack 3000 shrinkwrapping a pallet of boxes and winterizing a boat will be shown at the booth.
With patented cold-nozzle design and 360° free rotations, the Ripack 3000 is easy-to-use, efficient, completely safe and virtually maintenance-free. It possesses 76kW Btus of power and a 360° nozzle for ease of use, with extension wands to increase reach. Because of its higher heat capability, the Ripack 3000 works fast, saving time by 15%. Thanks to its unique, patented cold-nozzle technology, there is no risk of burns, and the nozzle can safely be rotated 360° with bare hands. Its smart design has a trigger which incorporates an Allen wrench to unscrew the body, enabling easy maintenance of the gun. The Ripack 3000 igniter can be easily replaced without tools in less than a minute, which means there is no slowdown in production. The ergonomic bi-material handle also makes for a more comfortable, improved grip.
Ripack's new line of polyethylene shrink films are made to be used in conjunction with Ripack heat guns and are ideal boat cover, pallet protection, containment, winterization and isolation applications. Shrink film are available in multiple thicknesses from 3 mil to 10 mil and in various sizes and colors. Special materials are available upon request.
Maker of the world's safest, fastest and most powerful high heat shrink guns, Ripack is dedicated to providing its customers with safe, reliable, ergonomic products backed by real people and personal service. Other Ripack products include the Ripack 2200 and 2000, the Ripaflam shrink packing gun, Turpopack column for pallet shrinking, Ripacover for pallet bagging, Multicover for creating any size pallet covers as needed, and Ripack Equipment Carry-All Extension Kit.
For nearly 30 years, Ripack has manufactured high quality heat shrink tools/shrink guns renowned for their reliability and ergonomic, simple design in Bordeaux, France; Ripack now serves its 60 North American distributors from its new centrally located distribution headquarters in Franklin Park, IL.
For more information, please contact: Andru Ryniec, Ripack Inc. 10700 Waveland Avenue, Franklin Park, IL 60131 773.267.2526 / Fax 773.267.2579 info(at)ripack(dot)com http://www.ripack.com