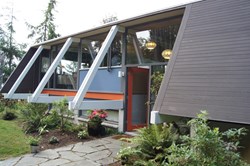 Last year's inaugural trip to Seattle was very successful... We immediately made Seattle a featured tour in the 2013 lineup as the kickoff to our fall series of tours.
Seattle, WA (PRWEB) August 16, 2013
Modern Home Tours kicks off its 2013 national fall tour in Seattle, Washington, on Saturday, September 7th. The second annual Seattle Modern Home Tour gives residents a unique and exciting opportunity to explore some of the area's greatest examples of modern architecture.
The Seattle Modern Home Tour is a self-guided driving-tour of eight architecturally progressive and contemporary homes in the Seattle area that exemplify modern living. Thanks to a handful of generous homeowners, tourgoers get the chance to explore the inside and out of awe-inspiring modern homes, designed by some of Seattle's greatest modern architects.
To date, eight homes have been approved for the 2013 Seattle Modern Home Tour:

The Dorsey Residence, by Coates Design Architects, on western Bainbridge Island with a unique concrete "box" exterior, and a stunningly open interior.
The Ellis Residence, a second Coates Design Architects home on the eastern Bainbridge Island that is LEED Platinum certified that serves as a model and educational tool for future sustainable residential projects.
A spacious unit in the Lake Union Loft condos, built in 2008 but renovated in 2010 by Goodspeed Architecture, highlighted by incredible use of natural materials.
A third home by Coates Design Architects, located east of Green Lake, that is just as impressive in size (4000 sq. ft.) as it is in modern design.
A gorgeous, mid-century classic in the Lake Sammamish area, completely redesigned in 2011 by Schemata Workshop Inc., with an amazing use of glass that provides plenty of natural light and stunning views.
The Reed Home, an iconic fixture in the Hilltop Community with amazing views of Lake Washington and downtown Bellevue, originally built in 1957 by Wendell Lovett and recently updated and redesigned by Schemata Workshop Inc.
The Chin-Graham residence, a house re-designed by David Coleman and located in the Magnolia neighborhood, that stands as a shining example of repurposing older homes to reflect modern lifestyles in ways that are sensitive to but not constrained by traditional forms.
The Atrium house, a 1950 home located in Queen Ann Hill and recently re-designed by Castanes Architects, that reveals stunning views of the Cascades through floor-to-ceiling glass windows and features a unique glass fireplace, and boasts a beautiful atrium at the center of its top-floor design.
Modern Home Tours is also proud to announce a second partnership with the Seattle Architecture Foundation. Partial proceeds of the tour will benefit the local non-profit's programs and mission of connecting people to the power of design.
"Last year's inaugural trip to Seattle was very successful," says Modern Home Tours co-founder, James Leasure. "We had an overwhelmingly positive response from tourgoers, as well as all of the architects and homeowners who participated. We immediately made Seattle a featured tour in the 2013 lineup as the kickoff to our fall series of tours. It will be followed by our first trip to Vancouver the following weekend."
A special discount is being offered to tourgoers who want to experience modern architecture in both Seattle and Vancouver. Leasure explains:
"We thought modern home lovers would really enjoy the chance to explore, compare and contrast regional designs and trends in architecture by making a short trip to a second, neighboring city the following weekend. So when you purchase a ticket for the Seattle Modern Home Tour online, you will be given the option to buy a ticket for the September 14th Vancouver (Canada) Modern Home Tour for just $10."
Participating homes on the Seattle Modern Home Tour will open their doors to tourgoers from 11:00 AM – 5:00 PM on Saturday, September 7, in and around Seattle, Washington. Tickets to see every home on the tour are $30 in advance online; available for $40 on the day of the tour at select 'start' locations. All are invited to attend. Kids under 12 are free!
For details, a current list of homes, and all ticket information, please visit http://seattle.modernhometours.com.
About Modern Home Tours, LLC: Based in Austin, Texas, Modern Home Tours, LLC was founded by partners Matt Swinney & James Leasure to introduce Modern architecture and living to people across the nation. Through fun and informative tours in dozens of cities across the USA and Canada, we invite people into some of the most exciting examples of Modern architecture and design in the nation. With carefully selected architects, neighborhoods and architecture, our home tours are unlike anything you've ever seen. Not only will you learn about the cutting edge of home design while on our tours, but you might even get an idea or two for your next home project!