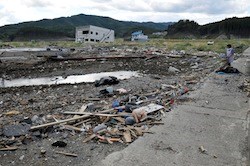 Detroit, Michigan (PRWEB) December 26, 2013
There are many well-meaning and essential organizations that provide relief to areas affected by catastrophic natural disasters. These organizations do critical work and help these battered areas regain their footing. SEND International missionaries assist with long-term recovery needs when disasters strike countries where they are already serving. Disaster recovery, like in the Philippines, involves more than just the first few weeks and months after the initial event. Complete recovery can take many years.
After Japan's 2011 triple disaster (earthquake, tsunami and nuclear scare), missionaries with SEND International moved north from Tokyo to help with long-term recovery. In the disaster area, flexibility and paying attention to people's needs are key.
Several months ago, SEND missionaries met and began to minister to Mr. and Mrs. Sato. Mrs. Sato looks older than her age, having worked with her husband on their farm in Japan all her life. The 2011 tsunami washed away everything they had but the Satos decided to rebuild. They purchased a shipping container to serve as their temporary home. Because of the condition of the soil, they cannot yet cultivate rice. Instead, they converted to growing salt-tolerant vegetables. Post-traumatic stress disorder from the tsunami and the hard labor of farming has worn Mrs. Sato to a frazzle.
The SEND missionaries designed an outreach program called "Breathe Deep, Refresh Your Soul Spa Tour," and invited Mr. and Mrs. Sato as their special guests. During the two-night spa, Mrs. Sato shared her suffering and worries with the missionaries. As they listened, they invited her to give those burdens to Jesus. She agreed and prayed with them to accept Jesus by faith.
Now the missionaries face the challenge of discipling Mrs. Sato. SEND's focus is church planting among the unreached but Mrs. Sato is unable to leave the farm long enough to attend worship services at the local church. So missionaries and Christians from Tokyo bring church to her. They come to the Sato farm and work alongside her in the fields. After the work, everyone sings some praises to God together.
In this part of the world, church planting sometimes looks a little different. Before the disaster, a small number of tiny churches worked independently to try to reach the whole area. Now SEND missionaries have strategic partnerships with several of those churches and are working together to share the gospel.
In the Philippines, strong churches were already in place in the typhoon-ravaged region. SEND missionaries will be in the Philippines for the long haul, this time equipping existing churches to rebuild lives and, most importantly, offer hope.
SEND International is an interdenominational faith mission agency with approximately 600 missionaries in more than 20 areas of Asia, Eurasia, Europe and North America. SEND's mission is to mobilize God's people and engage the unreached in order to establish reproducing churches. SEND members are multinational and are recruited and sent from sending offices and partner agencies around the world. For more information on SEND's mission and ministries, visit http://www.send.org.