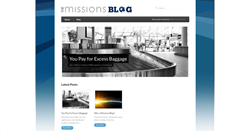 Detroit, MI (PRWEB) July 23, 2013
In conjunction with the launch of its new website, SEND International launched two new missions-focused blogs to promote conversation and engagement with global missions among church leaders and lay people.
TheMissionsBlog is designed for the strategic reader who wants to wrestle with issues, explore ideas, and push into discussions about what God is doing globally. In addition to writers like Warren Janzen, SEND's International Director, SEND invites contributions of guest writers from other mission organizations, church leaders, educators, and missiologists. This blog is particularly targeted to mission leaders, pastors, church mission teams, and academics.
TheMissionaryBlog is the opinions and experiences of missionaries, most of them with SEND. These posts will reflect their heart, their struggles, what drives them, the praises, and the laughs.
Those interested in becoming part of the conversation are invited by SEND to join in the growing conversation in the comments section of both blogs.
Individuals or groups interested in spreading the word about these new blogs are encouraged to post a link to one of the blogs on their own or their organization's Facebook page or Twitter account (contact SEND for specific ideas). For those interested in reviewing the blogs, SEND will gladly provide any information needed.
SEND International is an interdenominational faith mission agency with approximately 600 missionaries in more than 20 areas of Asia, Eurasia, Europe and North America. SEND's mission is to mobilize God's people and engage the unreached in order to establish reproducing churches. SEND members are multinational and are recruited and sent from sending offices and partner agencies around the world. For more information on SEND's mission and ministries, visit http://www.send.org.