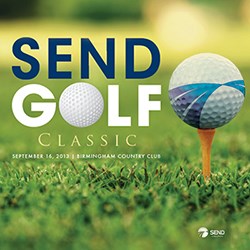 Those interested in playing in the SEND Golf Classic or sponsoring the event should visit http://www.send.org/uso/send-golf-classic
Birmingham, MI (PRWEB) August 26, 2013
On September 16, 2013 SEND International will host a golf outing at the Birmingham Country Club in Birmingham, Michigan. The event, which is sponsored by Warren Strategies, will raise awareness and funds for SEND's church planting ministries around the world.
The SEND Golf Classic is an 18-hole scramble and will include course contests and prizes. A barbeque lunch will precede the event and a banquet dinner and short program will follow. Non-golfers are also welcome to attend the banquet. Registration is still open but spots are limited.
The event will raise funds for SEND International, an evangelical missions organization that exists to mobilize missionaries who will impact communities through church planting. In the past year, SEND mobilized over 400 new short-term and career missionaries from at least five different countries. SEND's missionaries were involved in 133 church plants and saw almost 500 people decide to follow Jesus.
SEND also provides many resources for local evangelical churches such as training, informational materials, and short-term mission trips. Through the golf outing, SEND hopes to build relationships with businesses and churches in the metro Detroit area, making them aware of available resources and the vital work SEND conducts around the world.
Those interested in playing in the SEND Golf Classic or sponsoring the event should visit http://www.send.org/uso/send-golf-classic .
SEND International is an interdenominational faith mission agency with approximately 600 missionaries in more than 20 areas of Asia, Eurasia, Europe and North America. SEND's mission is to mobilize God's people and engage the unreached in order to establish reproducing churches. SEND members are multinational and are recruited and sent from sending offices and partner agencies around the world. For more information on SEND's mission and ministries, visit http://www.send.org .