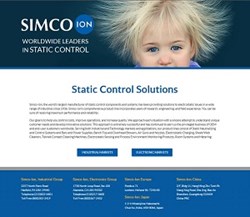 Hatfield, PA (PRWEB) September 04, 2013
Simco-Ion is proud to announce the launch of their newly designed website to provide a very positive user experience. Simco-Ion.com was redesigned with streamlined navigation and functionality throughout, allowing visitors to easily access product information, documentation and videos.
Designed with the help of customer feedback, the new site includes detailed product and application information to help visitors understand Simco-Ion's complete range of static control and web cleaning solutions. Technical data, videos and downloadable resources work together to provide a detailed overview of Simco-Ion's capabilities across a wide range of industries. Visitors can also access the full industrial product catalog online or download in a PDF format.
Knowing that many people access the web from their phones and tablet, Simco-Ion has introduced mobility to their new site. Simco-Ion.com has been designed using the latest technology so the site is compatible with today's browsers and mobile devices - without the need for Adobe® Flash to view it.
In addition, one click social media connections can now be made directly from the website, keeping visitors up to date on Simco-Ion's Twitter Feed,Facebook, LinkedIn, and even Simco-Ion's very own YouTube Channel. You can also subscribe to Simco-Ion's monthly E-Newsletter right from the home page to receive up to date information on products and services right in your inbox. When browsing the site, you can instantly connect with Simco-Ion customer service via the Live Chat feature to get support when and where you need it.
To view the new website please visit: http://www.simco-ion.com.
Simco-Ion * (215) 822-6401 * customerservice(at)simco-ion(dot)com * http://www.simco-ion.com
For the editor: Simco-Ion is the worldwide leader in static control technology, offering custom solutions for a wide range of industrial applications. With a focus on continuous improvement, Simco-Ion is dedicated to developing advanced products designed to improve productivity through enhanced system performance and operation. Worldwide sales support provides unsurpassed customer service and application analysis that continues to drive product excellence. Simco-Ion is part of Illinois Tool Works Company, a diversified manufacturer of highly engineered components, industrial systems and consumables with annual revenues of $14.4 billion. The Company consists of approximately 800 business units in 57 countries and employs some 59,000 people.