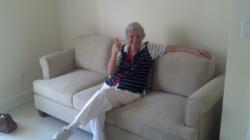 Simplicity Sofas is a top notch company with incredible customer service. You'll be hard pressed to find a company who will go so far to make sure you're satisfied with your purchase. Jeff and his team do a fabulous job. Erin Verbeck, Best-selling Author
High Point, NC (PRWEB) July 08, 2013
On Thursday, June 27 Ann Sankewitsch, Vice President of Simplicity Sofas, started out on an 840 mile drive (each way) from the company's High Point, North Carolina factory to Coral Gables, Florida to keep a promised delivery date for an elderly customer moving into a new down-sized home.
The customer, Sandy Davis, had ordered her custom furniture on May 20 specifying a June 28 delivery date for the small-scale sofa. Two weeks later she added an additional chair to the order.
Normally this change would require a two week delay in the shipment but nobody thought to notify the customer of the delivery date change until the original shipping date of June 24 approached.
At that point Ms. Davis' daughter-in-law stated the furniture had to be delivered on June 28th and that the service elevator had already been reserved for 1:30 pm.
A special rush was put on the production of the furniture but the final piece was not completed until the morning of June 27. At that point the only way to get the furniture to the customer on time was to personally drive it over 800 miles from the factory to the customer's home.
Ann Sankewitsch, Vice President of Simplicity Sofas (and her husband) volunteered to make the trip. At 1:45 PM on Friday June 29 the delivery was made to the great surprise and delight of Mrs. Davis.
The sofa and chair were assembled and all trash removed within an hour. Assembly actually took only 10 minutes for both pieces, the remainder of the time was spent unloading it from the truck, unpacking the pieces and chatting with the customer.
An hour later and Ann and her husband were on the road back towards High Point, North Carolina with a stopover to visit Ann's mother in Ft. Lauderdale.
Simplicity Sofas specializes in "Furniture for Small Spaces." It builds high quality sofas, sleepers and sectionals that are shipped unassembled so that they can fit easily through narrow doors, stairways and other entrances where conventional furniture cannot go. The furniture is also scaled for small rooms.
The company has won numerous awards both for its designs and for its "extreme" customer service principles. The company has several videos which are available at http://youtube.com/simplicitysofas, including one showing an 8 year old assembling a Simplicity Sofa by himself in less than 5 minutes.
Customer service speaker and best-selling author Shep Hyken made two videos explaining what makes Simplicity Sofas among the "Best of the Best" customer service companies in the U.S.
http://www.youtube.com/watch?v=lcdNrNrNuJc
http://www.youtube.com/watch?v=oBdu9XGrZvY
The company did not solicit or pay for these videos.