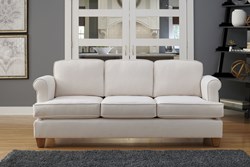 "Simplicity Sofas Boldly Goes Where No Furniture Company Has Gone Before"William Shatner June 19, 2013
High Point, North Carolina (PRWEB) October 02, 2013
Entrepreneurship and Innovation - two words that are not often associated with the American Furniture Industry.
High Point, North Carolina was once the dominant hub of furniture manufacturing in the US. High Point still tags itself as the "Furniture Capital of the World, and is the home of the semi-annual International Home Furnishings Market.
But the manufacturing core has largely moved offshore to lower cost facilities in Asia. Much of the area now has a ghost town feel, with shuttered factories – and shuttered local businesses that once thrived when furniture-making drove a vibrant local economy.
In the middle of this arid business landscape is a bright, thriving oasis of success: Simplicity Sofas. The company opened a small factory in High Point in 2007, just as the Recession began to devastate the American furniture industry.
Simplicity Sofas' business plan ...to market its unique products almost exclusively through its own e-commerce website... represented a dramatic departure from conventional furniture industry marketing practices.
Another daring innovation was the company's reliance on Word of Mouth marketing supported by a level of "extreme" customer service never before seen in the industry.
Six years later, the company has relocated its manufacturing to a larger facility to keep up with the increasing demand. Simplicity Sofas has shipped nearly $4 million of furniture to thousands of individual customers … without a single negative customer or professional review ... from the day the company first opened.
Along the way they've managed to accumulate a remarkable collection of awards and honors -- for both product and customer service innovations:
*** A $20,000 Grand Prize for Most Innovative Small Business in the USA (2012).
*** Two "Best of Market" Awards for new products featured at International Home Furnishings Markets
*** Appearing on two Man Cave TV episodes on the DIY Network.
*** Two feature articles in the Washington Post business section.
*** Many other articles in print and online publications plus interviews and feature stories on multiple TV and Radio stations.
*** Finalist for International Customer Experience Innovation Award.
*** Interviewed by William Shatner for upcoming book project
How has Simplicity Sofas pulled off these unlikely achievements?
The answer is twofold: entrepreneurship and innovation.
Back in 2003 designer/inventor/master craftsman Glenn Laughlin and furniture industry veteran Jeff Frank recognized that there was a huge customer need that no furniture company had ever been able to address -- a need for high quality upholstered furniture designed to fit through narrow doors and stairways where normal furniture cannot go.
IKEA and its imitators filled this void with low-end products that took an hour or more to assemble. Glenn and Jeff spent four years perfecting the revolutionary technology and building the first prototypes for custom-built high quality sofas that are so simple to assemble that a small child can build a full-size sofa in just a few minutes.
See video of an 8 year old boy assembling a Simplicity Sofa by himself in less than 5 minutes.
Two years after opening the inventors ran into a new challenge -- the first home with a stairway so narrow and twisty that even a Simplicity Sofa could not fit. Simplicity Sofas' owner Jeff Frank promised the customer that the company would figure out some way to get furniture down those stairs.
Nine months later Simplicity Sofas presented the customer with its new sectional design, based on a completely different (patent pending) technology. Sectionals currently account for 25% of company sales.
Cute 7 year old girl assembles Simplicity Sofas sectional unit in 1 minute.
When numerous RV customers called for an Easy Assembly pull-out sofa bed that would fit through tiny RV doorways, Simplicity Sofas went back to the drawing board -- developing a sofa bed that filled the need and could be assembled by a single person in less than ten minutes without tools.
Simplicity Sofa Bed Easy Assembly Video
Therein lies the key to Simplicity Sofas' success: fanatical devotion to understanding and satisfying their customers. They listen to customers, innovate designs to solve problems no one else addresses, and then delight buyers every time with a level of "extreme" customer service never before seen in the furniture industry.
For more information contact:
Simplicity Sofas
2726 W. English Rd.
High Point, NC 27262
800-813-2889
http://www.simplicitysofas.com