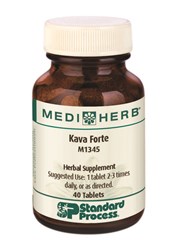 Palmyra, WI (PRWEB) September 03, 2013
Stress is a normal reaction to pressures a person faces such as, important decisions, family issues, or work problems. These daily stressors can easily interrupt the body and mind's ability to relax. Herbal supplement manufacturer MediHerb has designed Kava Forte as a natural way to promote necessary relaxation and relieve anxious feelings.
The new product is a well-balanced herbal formulation that respects the traditional wisdom behind centuries of Kava use. Kava Forte can provide support to adults coping with nervousness, tension, or mood swings, and may help to:

Calm nerves
Ease the effects of everyday tension and stress
Promote relaxation and sleep
Support the relief of muscular tension
Kava Forte's effectiveness is a result of the unique extraction process used by MediHerb. Using the highest quality Kava root, the Kava extract is created through a 100 percent water extraction process, a technique that maintains the full range of significant compounds, including vital kavalactones. The 50 mg of kavalactones supplied in each supplement is the primary ingredient to promote emotional balance.
"I have been safely using a water extract of Kava in my practice for nearly a decade" says Kerry Bone, co-founder of MediHerb, and director of research, "I find it just as effective as solvent-extracted Kava in helping my patients cope with a variety of nervous system challenges."
MediHerb's Kava Forte has been evaluated for both efficacy and safety in several positive clinical trials and continues to work with researchers to better understand the therapeutic activity of Kava.1-4
Kava Forte is exclusively distributed in the United States by whole food supplement manufacturer, Standard Process Inc.
For more information on how Kava Forte can benefit a person's well-being, visit mediherb.com.
*These statements have not been evaluated by the Food & Drug Administration. This product is not intended to diagnose, treat, cure or prevent any disease.
1. Sarris J, Stough C, Bousman CA et al. J Clin Psychopharmacol In Press
2. Sarris J, Kavanagh DJ, Byrne G et al. Psychopharmacology 2009; 205(3): 399-407
3. Sarris J, Adams J, Kavanagh DJ. Aust J Med Herb 2010; 22(1): 12-16
4. Sarris J, Stough C, Teschke R et al. Phytother Res In Press
###
About Standard Process Inc.
For more than 80 years, Standard Process, headquartered in Palmyra, Wis., has provided high-quality, nutritional whole food supplements through health care professionals. Standard Process offers more than 300 products through three product lines: Standard Process whole food supplements, Standard Process Veterinary Formulas and MediHerb herbal supplements. The products are available only through health care professionals.
Standard Process is involved in every step of production. The company grows crops on company-owned, organically certified farmland, utilizes state-of-the-art manufacturing processes, and employs the highest quality control standards. Standard Process strictly adheres to the Food and Drug Administration's good manufacturing practice requirements. Through these measures, Standard Process can ensure that its products are of the utmost quality and potency. Standard Process was named a Top 100 Workplace in Southeastern Wisconsin a number of times and is a member of the Inc. 5000 Honor Roll.
For additional information about Standard Process, visit standardprocess.com.