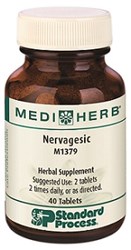 The traditional herbal combination in Nervagesic fills a much-needed gap in my clinical choices for addressing nervous system discomfort in my patients.
Palmyra, WI (PRWEB) October 22, 2013
The effects of nervous system discomfort experienced on a daily basis – whether from stress, overwork, or exercise – sometimes makes it more difficult for the body to get through what the day brings. Nervagesic, a new product introduced today by MediHerb, is a gentle, effective formulation designed to provide natural relief for nervous system discomfort.*
Nervagesic offers a therapeutic blend of California poppy, Jamaican dogwood and Corydalis herbs. This herbal combination contains many important compounds including alkaloids, isoflavonoids, and other flavonoids. Specifically designed for adults dealing with muscle cramps, physical tension and discomfort, Nervagesic can help:

Promote relaxation in the nervous system and muscles
Enhance the ability to relax during the night
Provide relief from occasional sleeplessness
Relieve muscular cramping*
"MediHerb meticulously tests the raw materials used in the products, to deliver an efficacious product that provides the best possible outcomes," says clinician Kerry Bone, co-founder of MediHerb and director of research. "The traditional herbal combination in Nervagesic fills a much-needed gap in my clinical choices for addressing nervous system discomfort in my patients."
California poppy and Corydalis are time-honored Chinese herbs used traditionally to promote healthy nervous tissue. Jamaican dogwood is valued for its calming effect on muscles and its soothing effects when feeling emotionally out of balance.1-6*
Standard Process Inc. is the exclusive distributor for MediHerb herbal supplements in the United States. To find out more about Nervagesic and additional therapies it can be combined with, visit mediherb.com.
*These statements have not been evaluated by the Food & Drug Administration. This product is not intended to diagnose, treat, cure or prevent any disease.
1 Moerman DE. "Native American Ethnobotany." Timber Press, Portland, 1998.
2 Cheney RH. "Quart J Crude Drugs." 1963; 3: 413-416
3 Felter HW, Lloyd JU. "King's American Dispensatory," 18th Edn, 3rd revision, 1905, reprinted Eclectic Medical Publications, Portland, 1983.
4 "Proceedings of the American Pharmaceutical Association at the Twenty-ninth Annual Meeting." Held in Kansas City, Mo., August 1881. Sherman & Co, Philadelphia, 1882.
5 García-Alvarado JS, Verde-Star MJ, Heredia NL. "J Herbs Spices Med Plants," 2001; 8(2-3): 37-89
6 Huang KC. "The Pharmacology of Chinese Herbs." CRC Press, Boca Raton, 1993.
###
About MediHerb
Australian-owned herbal supplement manufacturer MediHerb provides a wide range of herbal products in liquid extracts and tablets which meet pharmaceutical good manufacturing practice code. MediHerb's commitment to quality is evident in every aspect of the business, from the sourcing of herbs through to unique manufacturing processes that have revolutionized the herbal products industry. MediHerb has a unique research and development department with scientists who are internationally regarded as phytochemical experts, and have published numerous papers in respected peer-reviewed journals. MediHerb, co-founded in 1986 by Professor Kerry Bone, is the first choice in herbal products for health care professionals in Australia, Canada, New Zealand, South Africa, United Kingdom, and the United States. MediHerb products are sold exclusively in the United States through Standard Process Inc.
About Standard Process Inc.
For more than 80 years, Standard Process, headquartered in Palmyra, Wis., has provided high-quality, nutritional whole food supplements through health care professionals. Standard Process offers more than 300 products through three product lines: Standard Process whole food supplements, Standard Process Veterinary Formulas and MediHerb herbal supplements. The products are available only through health care professionals.
Standard Process is involved in every step of production. The company grows crops on company-owned, organically certified farmland, utilizes state-of-the-art manufacturing processes, and employs the highest quality control standards. Standard Process strictly adheres to the Food and Drug Administration's good manufacturing practice requirements. Through these measures, Standard Process can ensure that its products are of the utmost quality and potency. Standard Process was named a Top 100 Workplace in Southeastern Wisconsin a number of times and is a member of the Inc. 5000 Honor Roll.
For additional information about Standard Process, visit standardprocess.com