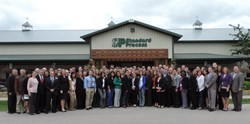 Being able to provide the facility to host SACA's annual leadership conference is a huge honor for Standard Process.
Palmyra, Wis. (PRWEB) October 10, 2013
In late September, 75 student chiropractic leaders visited the corporate headquarters of whole food supplement manufacturer Standard Process Inc., as the Student American Chiropractic Association (SACA) held its 2013 leadership conference at the company's Palmyra, Wisconsin-based corporate headquarters. This marked the 10th anniversary of the annual conference and the first time the event was not held on a chiropractic university campus.
"It is our privilege to be a part of this historic anniversary for SACA," said John Nab, D.C., professional development director at Standard Process. "Being able to provide the facility to host SACA's annual leadership conference is a huge honor for Standard Process."
During the conference, students heard from many influential chiropractors, including Mike Simone, D.C., American Chiropractic Association chairman of the board and Richard Branson, D.C., member of the board of directors at the University of Western States.
Conference attendees also heard from Standard Process President Charles C. DuBois who praised SACA members for their commitment to becoming chiropractors. The executive board of SACA then presented DuBois with a handmade canvas picture signed by the entire SACA leadership group.
Standard Process has invested more than $10 million into long-term educational outreach efforts to involve current and future health care professionals in the study of whole food nutrition. In addition to monetary support for the colleges, Standard Process offers learning opportunities on campuses, supports student activities, invests in the universities to enhance student experiences, and provides scholarships to several colleges.
Professional health care organizations and institutions interested in partnering with Standard Process can contact Lisa Hackett, professional development coordinator, at lhackett(at)standardprocess(dot)com.
###
About Standard Process Inc.
For more than 80 years, Standard Process, headquartered in Palmyra, Wis., has provided high-quality, nutritional whole food supplements through health care professionals. Standard Process offers more than 300 products through three product lines: Standard Process whole food supplements, Standard Process Veterinary Formulas and MediHerb herbal supplements. The products are available only through health care professionals.
Standard Process is involved in every step of production. The company grows crops on company-owned, organically certified farmland, utilizes state-of-the-art manufacturing processes, and employs the highest quality control standards. Standard Process strictly adheres to the Food and Drug Administration's good manufacturing practice requirements. Through these measures, Standard Process can ensure that its products are of the utmost quality and potency. Standard Process was named a Top 100 Workplace in Southeastern Wisconsin a number of times and is a member of the Inc. 5000 Honor Roll.
For additional information about Standard Process, visit standardprocess.com.