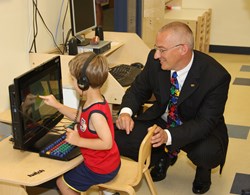 We are excited to celebrate this successful partnership and look forward to many more years of serving Standard Process families.
Palmyra, WI (PRWEB) August 29, 2013
On August 26, corporate partners Standard Process Inc. and Bright Horizons Family Solutions celebrated the 10-year anniversary of Vita Kids Learning Center located on the Standard Process campus in Palmyra, Wis. The day was highlighted by a special recognition ceremony and an open house which was attended by past, present and prospective Vita Kids families, Standard Process and Bright Horizons representatives.
"Today is a memorable day for the Standard Process family," said Charles C. DuBois, Standard Process president. "It marks the success we've experienced in achieving our personal goal to foster a work environment where dedication to career and family are equally valued."
The vision of the DuBois and Wisniewski families, owners of Standard Process, to provide their employees with access to safe, affordable childcare was realized when the company partnered with Bright Horizons to build an on-site childcare facility. Since opening Vita Kids in May 2003, 90 employee families have been a part of the center.
During the ceremony, Bright Horizons representatives provided a special plate to honor the partnership. "Bright Horizons is honored to partner with Standard Process to provide care for their employees' families. For 10 years, we have worked together to offer high-quality childcare in a safe, nurturing environment. We are excited to celebrate this successful partnership and look forward to many more years of serving Standard Process families," said Vita Kids Center Director Jenny Rule.
-- more --
Members of the Vita Kids Parent Group also presented a book featuring photographs of past and present Vita Kids families to the DuBois and Wisniewski families.
During the open house, families added a commemorative plaque to the center's anniversary art project, visited classrooms and watched a slide show spanning the center's lifetime. Attendees were also treated to a dance routine by the school-age Vita Kids Camp children (5-12 years old).
Teachers Ann Lamb, Armandina Covarrubias, Deila Garcia and Nancy Longoria were also given certificates of recognition for their commitment to Vita Kids; each has been with the center since its first year.
Vita Kids Learning Center opened its doors in May 2003 with just under 4,000 square feet and served 38 students with 18 staff members. In 2010, the center was expanded, tripling its size to over 11,000 square feet, and increasing its capacity to 102 children, six weeks to 12 years old. Additional employees were hired, bringing the center's faculty to 24 employees.
To learn more about employee benefits, such as Vita Kids, and career opportunities at Standard Process, visit standardprocess.com.
###
About Standard Process Inc.
For more than 80 years, Standard Process, headquartered in Palmyra, Wis., has provided high-quality, nutritional whole food supplements through health care professionals. Standard Process offers more than 300 products through three product lines: Standard Process whole food supplements, Standard Process Veterinary Formulas and MediHerb herbal supplements. The products are available only through health care professionals.
Standard Process is involved in every step of production. The company grows crops on company-owned, organically certified farmland, utilizes state-of-the-art manufacturing processes, and employs the highest quality control standards. Standard Process strictly adheres to the Food and Drug Administration's good manufacturing practice requirements. Through these measures, Standard Process can ensure that its products are of the utmost quality and potency. Standard Process was named a Top 100 Workplace in Southeastern Wisconsin a number of times and is a member of the Inc. 5000 Honor Roll.
For additional information about Standard Process, visit standardprocess.com.
About Bright Horizons Family Solutions®
Bright Horizons Family Solutions® is a leading provider of high-quality child care, early education and other services designed to help employers and families better address the challenges of work and life. Bright Horizons provides center-based full service child care, back-up dependent care and educational advisory services to more than 850 clients across the United States, the United Kingdom, Ireland, the Netherlands, Canada and India, including more than 130 FORTUNE 500 companies and more than 75 of Working Mother magazine's 2012 "100 Best Companies for Working Mothers." For more information on Bright Horizons, visit brighthorizons.com.