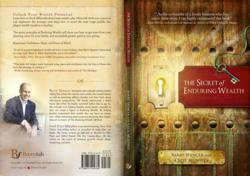 "Barry H Spencer has written a totally different type of book. It's easy to dismiss this book... But don't!" - Stephen R. Leimberg
Atlanta, GA (PRWEB) July 03, 2013
In June, nationally recognized estate planning authority and attorney Stephen R. Leimberg highlighted Barry H Spencer's book, The Secret of Enduring Wealth, as a must read for estate planning attorneys, financial advisors, and professionals serving the wealthy in the setting up and establishing their estate plans.
Stephen R. Leimberg is CEO of Leimberg and LeClair, Inc, an estate and financial planning software company, President of Leimberg Associates, Inc., and Publisher of Leimberg Information Services, Inc. which is a leading provider of news and information for tax professionals.
Leimberg's June 24, 2013 Newsletter referred to Barry H Spencer's book, The Secret of Enduring Wealth, as a book "which should be read by every estate, financial, and charitable planner."
Leimberg is a nationally recognized speaker and author who has been awarded the Excellence in Writing Award of the American Bar Association's Probate and Property Section. He has been honored as Estate Planner of the Year by the Montgomery County Estate Planning Council, and as a Distinguished Estate Planner by the Philadelphia Estate Planning Council.
"Barry H. Spencer has written a totally different type of book. In this short layperson's book Barry covers many of the deeply intimate and essential non-technical questions that need to be asked – but all to often are not – by estate and business planning clients – and by their counselors" Leimberg says in his continued review of, The Secret of Enduring Wealth.
The author, Barry H Spencer, shares his personal struggle with a wealth transfer that initiated when his highly successful father lost his battle with cancer at the age of 62.
Rich DeVos, co-founder of Amway & owner of NBA Orlando Magic says, "Too few wealthy people ask the bigger questions. As the co-founder of a family business who has taken [the steps outlined in The Secret of Enduring Wealth] I can highly recommend Barry Spencer's book."
Leimberg concludes his review saying, "It's easy to dismiss this book because it has zero technical information. But don't! If you do nothing but go through and copy down the questions in this book that resonate to you, you'll have learned – or reminded yourself – of some of the most important "people planning" reasons we engage in estate planning."
Following his own advice to estate planning professionals – attorneys, financial advisors, wealth managers, and accountants – he notes he will be using content from Barry H Spencer's book to add "a number of points" to the presentation he gives to Estate Planning Councils and charitable organizations called, The Psychology of Giving.
Barry H Spencer talks in his book that his triumph is in helping the financial and estate planning industry better serve wealthy clients and families so they do not live with or pass on the regrets that were unintentionally passed on to him when his father's estate plan, though executed, fell short of intention and failed to achieve desired results.
In conclusion of Stephen R. Leimberg's review of, The Secret of Enduring Wealth, he says, "This will certainly be of great worth in motivating clients toward – not just action – but considered and positive action."
For more information about Barry H Spencer and his book, The Secret of Enduring Wealth, call (678) 278-9632, or visit http://www.WealthWithNoRegrets.com.
About Barry Spencer: Barry Spencer is a nationally recognized, author, financial educator and speaker whom you may have heard on radio, including WAFS biz1190. Spencer's latest book The Secret of Enduring Wealth, and he is the co-author of Wealth: From Roots of Regrets to Routes of No Regrets, and How To Enjoy A Life Generosity. His published articles include: "When Wealth Is More Than Money," When Generosity Matters To The Family," and "The Two Essentials that Count Beyond Death and Taxes." Barry lives with his wife, Lori, and their two children Hudson and Avery Kate in Alpharetta, GA.