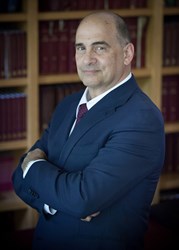 The Subchondroplasty Procedure™, is a far less invasive way to address damaged knee joints and bone than surgical alternatives.
North Arlington, NJ (PRWEB) December 09, 2013
For certain patients who present with specific types of knee injuries or painful conditions, Dr. Kent Lerner of Metropolitan Orthopaedics has a solution that can forestall the need for knee replacement surgery. The orthopedic surgeon has been performing The Subchondroplasty Procedure™, a far less invasive way to address damaged knee joints and bone than surgical alternatives. In many cases, subchondroplasty enables patients to return to their full range of activities, pain-free, for several years before needing to consider a knee replacement.
Subchondroplasty is an arthroscopic technique performed on the area called the subchondral bone, located just below the knee cartilage. It is indicated in cases of chronic bone marrow edema (BME), which is seen as a severe inflammation of the bone underneath the knee cartilage, a stress fracture or micro fractures (as often seen in athletes), or a defect inside the bone that is linked to cartilage damage and causes chronic knee pain.
BME can occur at any age but is common in middle-aged and older adults, patients with osteoarthritis, and those with joint misalignment. Chronic BME is linked by many orthopedic surgeons to knee pain and the pain associated with arthritic knees; many believe the condition will not self-heal and it requires some form of intervention.
"In many cases, subchondroplasty is the first step in the treatment of these types of bone defects," said Lerner, who has been performing the procedure on his orthopedic patients with very positive outcomes. "It can be done along the treatment spectrum, meaning it does not in any way cancel out the ability to do knee replacement surgery in the future, should the patient need it." Lerner noted that the benefits of a subchondroplasty can last anywhere from two to five years.
Subchondroplasty involves the injection of calcium phosphate, an organic substance, into the damaged area—the subchondral marrow lesion. This bone substitute hardens and is osteoconductive, meaning it acts as a scaffold that supports the knee as new bone grows into it. It is done on an outpatient basis and greatly reduces the rehabilitative process because it is minimally invasive. It is used specifically to treat subchondral defects only.
Lerner cites several criteria for considering a subchondroplasty:

The patient has received limited benefits from cortisone injections to relieve inflammation and pain.
Knee pain or discomfort increases when walking or standing.
The knee joint is starting to collapse
An MRI reveals a change in the normal bone marrow, suggesting the presence of liquid (a sign of inflammation)
Prior visco-supplementation injections did not deliver pain relief
"This procedure is not for everyone and a full exam and series of images must be taken to diagnose the knee problem and make a determination regarding course of treatment," noted Lerner. "However, there is a definite role for subchondroplasty in the treatment of chronic knee pain, specifically for bone marrow edemas in the subchondral bone."
Dr.Kent S. Lerner sees patients in two New Jersey practices located at 17 Jauncey Avenue in North Arlington and 4 Brighton Rd, Suite 301 in Clifton. For more information about subchondroplasty, or for a consultation about chronic knee pain, joint pain or orthopedic surgical treatments, contact Metropolitan Orthopaedics at (201) 991-9019 or visit http://www.MetropolitanOrtho.com.