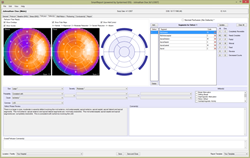 The Syntermed system is well-positioned to support the Registry process, ultimately allowing data to be automatically submitted through Syntermed Live. -- Christian Del'Aune, Dir. of Technology
Atlanta, GA (PRWEB) September 20, 2013
SYNTERMED PRODUCT NEWS: Total EMR integration is going to be much simpler with the new, totally rebuilt Emory Toolbox 4.0™ and SmartReport™, plus Syntermed LIVE™, now Cloud-based for anywhere, anytime reading and reporting.
ASNC SCIENTIFIC PRESENTATIONS, Hyatt Regency, Chicago, Ill,
Several scientific abstracts are referencing Syntermed technology on Friday, Sept. 27, 9:30-10:30 am.
>> 203-01. Diagnostic Performance of a Smart Cardiac Reporting System for Myocardial Perfusion SPECT Imaging. E. V. Garcia, et al. (Emory University Hospital, UNC)
>> 203-14. Left Ventricular Diastolic Dyssynchrony Assessed by Phase Analysis of Gated SPECT Myocardial Perfusion Imaging: A Comparison with Speckle Tracking Echocardiography
C. Chen et al. (Memorial Hospital, Changhua, Taiwan, Emory University, Atlanta, GA)
IMAGING SOFTWARE TECH UPDATE: Syntermed software developers apply the proprietary algorithm for SmartReport originally developed by Ernest Garcia PhD, et al. (Emory University) in consultation with Larry Klein MD (UNC) as a replacement for Syntermed's NRP report generation program. The blended system of Emory Toolbox 4.0 and SmartReport enables nuclear cardiologists to experience a smarter reporting system that automatically incorporates data from Emory Toolbox 4.0, utilizes Syntermed's image decision support (IDS) system, applies the data to a guideline-based structured report template and translates the data into a natural language report.
TRENDING TOPIC: ASNC's upcoming ImageGuide Registry
Q. How will the new Emory Toolbox 4.0 and SmartReport adapt to the upcoming healthcare registries and reimbursement changes?
A. Christian Del'Aune, Director of Technology, Syntermed, Inc.
"At the 2013 ASNC meeting we will hear more about the ASNC ImageGuide Registry. The Syntermed system is well-positioned to support the Registry process, ultimately allowing data to be automatically submitted through Syntermed Live. When Emory Toolbox 4.0 was rebuilt, the architecture for both 4.0 and SmartReport was designed to be guidelines-friendly. Our software captures data that conforms to guidelines-based, structured reporting and the ASNC ImageGuide Registry, but generates reports in natural language, not as tables and graphs of raw data."
ABOUT SMARTREPORT: What it means for nuclear cardiologists
>> Improve workflow with faster turnaround of the final report from the Emory Toolbox 4.0/SmartReport system.
>> Streamline their data-driven technology to adapt to evolving guidelines.
>> Automatically synchronize the report through the Syntermed Live system providing remote access from a tablet, laptop or workstation onsite or off-site.
>> Access both the report and images remotely.
>> Fully integrate with the hospital's existing EMR enterprise system.
Syntermed's Emory Toolbox 4.0 with SmartReport, powered by Syntermed IDS is FDA cleared, May 2013. Emory Toolbox™ 4.0 is the result of an award (1 R42 HL106818-01) from the National Heart, Lung and Blood Institute titled, "Novel WEB Decision Support System for cardiac image interpretation and reporting" funded through the Small Business Technology Transfer (STTR) program of NHLBI.