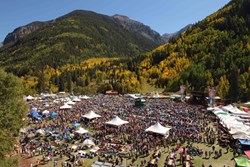 Welcome to Festival Capital, USA. Welcome to Telluride, Colorado.
Telluride, Colorado (PRWEB) July 27, 2013
The Town of Telluride is gearing up for the second half of its acclaimed summer event schedule with more notable anniversaries, debuts, and long-time favorite events.
Earlier this summer, Telluride Mountainfilm celebrated its 35th year showcasing films on the issues of climate change and sustainability solutions; the Telluride Balloon Festival soared through its 30th season with scenic hot air balloon rides high above the Telluride box canyon; Telluride Bluegrass Festival celebrated its 40th anniversary with performers Sam Bush, Emmylou Harris, Dispatch, The String Cheese Incident, Feist, Yonder Mountain String Band, and more; and the historic Sheridan Opera House, the classic festival venue in Telluride, celebrated its 100th anniversary with a speakeasy, 1920's themed gala.
Notable late summer/fall festivals include:
August 8-18: 40th Telluride Chamber Music Festival – celebrating its 40th year of classical music and music-making at its highest level. Creativity in all of its melody, originality, and harmony will take center stage during this two-week festival.
August 29-September 2: 40th Telluride Film Festival – celebrating its 40th anniversary, the Telluride Film Festival is unlike any other prestigious film showcase. No red carpets, paparazzi, extravagant parties -- and the lineup is held secret until the opening day. Even with its laid back attitude, the festival continues to host the best of the best, premiering four of the past five Best Pictures at the Academy Awards.
September 7: 40th Imogene Pass Run – a 17.1 mile point-to-point mountain race through the western San Juan Mountains of Colorado. The runners race along a route which connects the towns of Ouray (7810 ft.) and Telluride (8750 ft.) by way of 13,114 foot Imogene Pass. Over 1,500 participants from around the country visit to compete.
September 13-15: 20th Telluride Blues and Brews Festival – celebrating its 20th anniversary in Town Park with world-class musicians, 50+ craft breweries, and majestic views of the San Juan Mountains. The Black Crowes, Jim James, Melissa Etheridge, Gary Clark Jr., John Hiatt, Mickey Hart Band, and many more are scheduled to play. Stay tuned for new additions to the lineup in the upcoming weeks.
September 19-22: 1st Telluride WOW Festival – making its festival debut, the Telluride Work Out Weekend will feature presenters, instructors, and athletes to hold fitness classes and sessions on the latest health and wellness trends and workouts.
Telluride Fall Events Calendar:
August 2-4 Telluride Jazz Celebration
August 8-18 Telluride Chamber Music Festival
August 15–18 Telluride Mushroom Festival
August 23–25 KOTO Doo-Dah
August 29–September 2 Telluride Film Festival
September 7 Imogene Pass Run
September 13–15 Telluride Blues and Brews Festival
September 19–22 Telluride WOW Festival
September 20-21 Telluride Barbeque Festival
September 21 Mountains to Desert Ride
October 11–13 Telluride Horror Show
October 26 KOTO Halloween Bash
About Telluride.com
Telluride.com is owned and operated by Telluride Alpine Lodging - the longest-standing, locally-owned and operated lodging company in the Telluride region. Offering a wide selection of hotel rooms, vacation homes and condominium rentals in both town & Mountain Village, Telluride.com is the only place to look to find the perfect Telluride vacation rental.
Media Contact:
Hart Roberts
Marketing Manager
(970) 728-3388, ext. 10155
Hart(at)Telluride(dot)com
@hartlroberts
###